Anastacia-Reneé is a poet who knows how to read her work — she takes control of an audience by refusing to conform to standardized modes of delivery. She reads about eating pussy in a roomful of straight people and indicts structural racism in white-dominated spaces. She throws her voice out into the room, but also pulls you in with a whisper or an aside. There is a fusion to her performance style that has obviously taken years to perfect — a commingling of spoken word, black radical oration, theatrical exposition, intergenerational storytelling, queer gossip, and academic training.
So perhaps it is surprising that Anastacia-Reneé's first two full-length collections of poetry arrive now, at age 45 (a third, smaller volume — Answer(Me) — will follow later this year). But this is emblematic of how the barriers to publishing often function to keep out writers who don't follow the rules.
Reading Anastacia-Reneé's two major collections at once offers a rare syncretism. The books are stylistically different and yet thematically interlocked. The first, (v.), just out from local publisher Gramma Poetry, captures the impact of white supremacy on black women and girls — the fracturing of the psyche, the invasion of the spirit, and the plundering of the soul. Using a variety of forms, including alphabetical lists, free-verse, fairy tales, and narrative footnotes, Anastacia-Reneé moves through the contemporary and historical terrain of anti-black, anti-woman, and anti-child violence to unwind the damage.
On the surface, Forget It, just out from Black Radish Press, is a more narrative work, but it is a narrative that shows how narrative fails. Part dreamscape, part surrealist horror story, and part letter to self, Forget It shows how legacies of abuse break bodies and texts. Written in the internalized language of trauma — of sound, speech, error, and dismembered remembrance — Forget It shows how the pain of fitting a life together winds its way through the shock of everyday experience.
I'll be joining Anastacia-Reneé for the Forget It book launch at Elliott Bay Book Company on July 25 (alongside Jane Wong and Shankar Narayan). In advance of the reading, I sat down with Anastacia-Reneé to talk about her two new poetry collections and the terrain they create together.
It was fun to read your work on the page for the first time — of course I've seen you read many times, but there's a whole new level of textual depth that opens up when I see the ways you've arranged the words on the page. I wonder if you could talk about the texts that are inside and around and underneath other texts.
I grew up with reference books — the kind you could actually lug around, hold, flip pages and stare at — medical dictionaries, regular dictionaries, encyclopedias and maps. In my writing I like to mimic reference books and get the reader's attention while talking about more than one thing or topic or subtopic — or, better still, a thing the reader isn't supposed to know but now knows. Or a thing I feel like the reader should infer but might not.
I was told a lot when I was younger to be quiet, or it was implied in the '70s and '80s that girls should not use their voices. The texts and subtexts are also a way for me to say fuck that, and use so many different mediums and modes of communicating that it takes the reader a long time to process it.
One thing that strikes me throughout both books is your insistence on indicting not just white supremacy, but its constituent parts — how histories of violence interact in everyday experience, from police brutality to internalized oppression, pop culture to intimate relationships.
I seek to indict, interrogate, and insert feelings of injustice. Sometimes I just want the reader to feel something — but the possibility that one could walk away from some of the pieces and feel ambivalent or apathetic is a hard coffee drink to swallow. My ultimate goal is not to sit the folks down in a chair and say "Look what you did"; I would, rather, like them to be walking down a journey and say, "Hmm, perhaps I need to change some things and take a look at a bigger picture."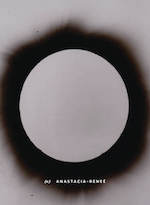 The texts are always fractured, and this allows us to see into both the ways creative expression forms and the mechanisms of the structural violence that you explore. When you play with words, it seems to me that you're taking apart language to reveal the structures of feeling that produce meaning, but also setting them free to create new meanings. One poem that does this in particular is "DE[COLONIZE]," from (v.), where you reveal the colon inside colonization, which, if functioning properly, could release toxins instead of poisoning us all, right?
Yes! I wondered, though, if the readers would get it, or if they would put together more toxins. There were so many versions of this poem, and I almost didn't put it in the book for fear of not executing it in the way I wanted it to read, be, and feel on the page.
I think it's one of the clearest poems in the book — and, by never letting go of the ways that misogyny and sexual violence are tools of white supremacy, you offer an intersectional analysis in a deeply embodied way, especially in the poems about rape, where the feeling of dissociation is palpable.
This is important for me to talk about, but not in a preachy kind of way. I tried my best to talk about it in a creative way. Less academic essay, but with academic nuances. Also, some days there's just no nice way to say, "Black women are dying, daily. Black people are dying, daily."
In many of the poems you explore intergenerational trauma. In "MASTER TALE," you show how the legacy of slavery plays out in the contemporary workplace.
"MASTER TALE" is actually part of a series that I first began working on when my art installation "The fabric of our lives" debuted at the Northwest African American Museum. The installation talked about the dirty laundry of systemic racism and oppression and the DNA legacy of the feeling of this oppression, which is sometimes felt but not seen right away by the naked eye — especially by white people. In one part of the installation I asked participants to write modern-day letters to current-day masters, at work or in the larger world. "MASTER TALE" is my take on that, and my letter.
I love your confessions: "I'm the creepy girl in all the scary movies." Even though these are in a smaller font at the bottom of the pages, they are the movement that propels (v.) forward — and, set apart by the same (v.) of the title — they are the action, the verbs, but also, if we look at your constructed alphabet, we see words like ventricle, voice, vortex, void, vampire — and, nine times, vagina. Tell us about the (v.) of the title.
The (v.) is for whatever the reader wants it to mean. For me it means verb or vagina or both. I wanted to give the reader agency.
In both books, it seems to me like you are deliberately resisting closure — you're making the reader face all the brutality and possibilities head-on. Was this your intention?
I don't think I was intentionally trying not to let the reader get closure, but I did want the reader to be faced with real shit. I wanted the readers to feel as trapped as some people do in the real world where presentation or privilege — or point of view, even — is not a choice.
It seems to me that black authors who are canonized within the white gaze are often required to offer redemption as a strategy for hope. Would you say that you are refusing this type of hope?
Yes, the kind of hope I am offering is "I hope you learn something." "I hope you become a better ally." "I hope you feel something."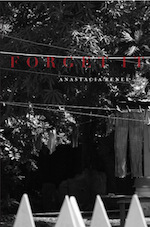 I was wondering if Seattle would come up directly in these books, and when it does, in Forget It, it's as a city of dog-walking and urban gardens and liberal amnesia, where "we begin to think people on drugs don't need food & shelter & water." Talk about this city.
Ah, this city. For me it truly is like a lover I love but at times am so ready to break up with. I want to tell Seattle do better, be better, and sometimes I want to say you are not better. On the days when I say you are not better, it's usually because someone who comes off as "progressive" or "fair" or "diversity-trained" ends up being a racist or sexist or just a complete idiot and not even admitting it because they are a "change-maker." I get frustrated with this city because we still have one of the highest rates of homelessness, and youth homelessness. I get frustrated with this city because it feels like it wants to be LA, with less meat and less sun. I want Seattle to be herself but better.
I have moved a lot, and Seattle is the longest place where I have lived as an adult. There are mountains and water, and I do like the rain — I am teased often because I do not celebrate when the sun comes out and I don't cry during winter about there being rain. And once I moved back here in 2012, Seattle was my sanctuary. My church with no pastors or pews.