At this point, you likely know the deal with the Seattle branch of the Bushwick Book Club, right? They've been around for years, so odds are good you've encountered at least a listing for one of their events. If you're new here, or if you haven't been paying attention, here's the deal: local musicians create all-new music in response to a book. The results obviously vary, depending on the book and the musicians who are participating. That's how anthologies work!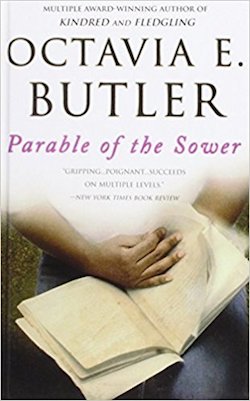 But this week, we're about to bear witness to the closest thing the Bushwick Book Club has ever seen to a Sure Thing — a guaranteed fantastic time. This Friday, February 16th, at the Langston Hughes Performing Arts Institute, the Bushwick Book Club will create new music based around Seattle sci-fi giant Octavia Butler's Parable of the Sower.
Butler, of course, is one of the greats — the first sci-fi writer ever to win a MacArthur "Genius" Grant, and arguably the sci-fi writer who did the most in the 20th century to legitimize the genre as an art form. Sower predated the dystopian fiction craze by a half-century, and its story—about a young woman who is gifted (or cursed) with a supernatural empathy—pretty much instantly became a science fiction classic.
The Book Club called in KEXP's DJ Riz (Riz Rollins) as a guest curator, and he's selected an all-star lineup of Seattle talent to participate: Om Johari, JR Rhodes, Coreena Brown, Reggie Garrett, Tiffany Wilson, Adra Boo, Okanomodé, Nikkitta Oliver, Monique Franklin and Yonnas Getahun.
So we've got a world-class writer, one of Seattle's very best DJs as curator, and a revitalized arts organization to host. Could this be the very best Bushwick Book Club ever? All signs point to yes.
Langston Hughes Performing Arts Institute, 104 17th Ave S, 7:30 pm, $10.