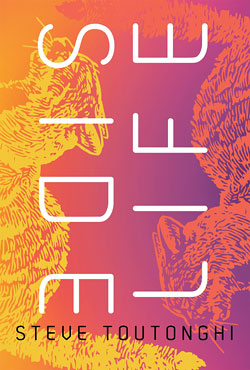 "The story has a note of urgency, but it is also set in a very familiar context," Author Steve Toutonghi told me last year about his then-upcoming novel Side Life. He was unveiling the cover of the book, and we had a great conversation about all the work that modern book covers have to do - they have to be attractive and unique in a display, on a shelf, and as postage-stamp sized images on websites.
"I'm sort of at the edge of my seat to see what this [cover] will look like in the context of a table at a store," Toutonghi said at the time. This week, he finally gets to see: Side Life is finally in bookstores everywhere tomorrow. And this Thursday, Toutonghi debuts the book in a reading at University Book Store.
Side Life certainly lives up to Toutonghi's brief description from last year: It's familiar to any Seattleite. The book takes place in and around Seattle - our freeways, our hills - and the characters in it live on the fringes of our tech-drunk culture. Vin is a wannabe tech star who has been booted from his own company. Dejected, he winds up a housesitter at a Queen Anne mansion.
And the story is urgent from the very beginning. The house in Side Life is haunted, but not by ghosts. Instead, it's haunted by technology: smooth coffins that look like a consumer tech product, notebooks full of computer code, and creeping sense that reality might not be real.
Side Life has been a long time in the making, but it couldn't feel any more relevant. In a time when seemingly everyone is welcoming always-on speakers into their homes and Seattle teeters on the edge of some ugly revelations about the state of the tech economy, this book plays up those anxieties and centers them in one very familiar, very urgent story.
University Book Store, 4326 University Way N.E., 634-3400, http://www2.bookstore.washington.edu/, 7 pm, free.