Every month, Daneet Steffens uncovers the latest goings on in mystery, suspense, and crime fiction. See previous columns on the Criminal Fiction archive page
Reading around: new titles on the crime fiction scene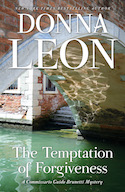 There's something incredibly pleasurable about walking streets of Venice with Commissario Guido Brunetti as he ponders the good and the bad in people — and savors his any-time-of-day coffees — with a lovely, wry, and gentle humor. With nearly 30 Brunetti mysteries under her belt, Donna Leon is an old hand at skillfully blending the police procedural with the personal lives and interactions of her detective, his friends, family and colleagues: in The Temptation of Forgiveness (Grove), this blend is particularly seamless as a familial acquaintance of Brunetti's drops by the station to share her concern that her son is buying drugs at school. Before you can say "coincidence much?", a man is found in the street, unconscious, who turns out to be her husband and the boy's father. The game, as they say, is very much afoot.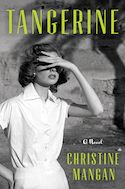 Tangerine by Christine Mangan is the kind of novel that the phrase "deeply atmospheric thriller" was made for. This assured and impressive debut, set partly in 1956 Tangier, partly in collegiate Vermont a few years earlier, tracks the arc of a friendship between two young women, Alice Shipley and Lucy Mason. They meet as college housemates and develop a friendship that's both amiable and fraught with an underlying intensity; the ensuing tangle of emotions when Alice embarks on a relationship with a young man inevitably has a disrupting effect. But then, so does Lucy's unexpected appearance in Morocco a year later, where Alice is living with her louche and ne'er-do-well husband. The dust, spices, souks and cafes of Tangier offer a tempting backdrop to a story that remains urgently compelling beyond its final page.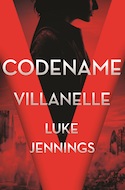 BBC America's Killing Eve, currently getting terrific play, is based on Codename Villanelle by Luke Jennings (Mulholland), an espionage thriller that features two indomitable women. Villanelle is a sociopath and highly-trained assassin with an appropriately bleak backstory; Eve Polastri is an MI5 operative, blindsided by one of Villanelle's high-profile murders, who vows to track the killer down. You can see in this initial book of a series how a TV version would fire imaginations: two smart, powerful women, playing a game of cat-and-mouse, and, in the case of Villanelle, with no expenses spared: her designer-name, haute-Parisian life-style is made for visual translation, as are the searingly brutal action scenes.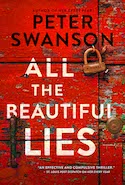 Peter Swanson finesses his increasingly dark characters in All the Beautiful Lies (William Morrow). His fourth thriller features femme fatales a-plenty, as new college graduate Harry Ackerson discovers that his father has died suddenly and a bit mysteriously. The father owned two used bookstores and loved crime fiction, and there are some wonderful literary references – including Agatha Christie, natch – as well as an fun embedded nod to a contemporary crime novelist. All this and distinct, provocative shades of Lolita, to boot.
The Quintessential Interview: Laura Lippman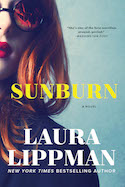 Lippman's latest novel, Sunburn, is rightfully garnering accolades from fellow authors and readers alike. Inspired partly by the James M. Cain classics The Postman Always Rings Twice, Double Indemnity and Mildred Pierce, Sunburn radiates a sensationally cool noir vibe all its own, shimmering with a relentless undercurrent of danger, violence, sex, and heartbreak. The author of more than 20 novels, including a killer series featuring Baltimore PI Tess Monaghan, Lippman, originally from Baltimore, now divides her time between that city and New Orleans.

What or who are your top five writing inspirations?
The contract, the deadline, the deadline in the contract, the world, the idea currently uppermost in my mind.
Top five places to write?
Coffeehouses, dining room table, my own office, airplanes, hotel rooms. Yes, I prefer the dining room table to my office and I prefer planes to trains.
Top five favorite authors?
This question makes me feel like Paris, please don't make me answer it. I'm going to pick the wrong five and start a war.
Top five tunes to write to?
The sounds of silence and I don't mean Simon and Garfunkel's album. I can write amid great cacophony because I was a reporter, I can ignore music in coffeehouses, but I never choose to write to music.
Top five hometown spots?
Riverside Park, the Brass Elephant bar (circa 1992), Fort McHenry, Enoch Pratt Central Library (although it's currently under renovation) and Dickeyville, the beautiful neighborhood where I grew up.