Monday, September 17: Washington Black Reading
Canadian author Esi Edugyan's unlikely novel about slavery and adventure was longlisted for the Man Booker Prize. Tonight, Seattle audiences get to hear the book in the author's own words. She doesn't make it out this way often, so go see her now.
Elliott Bay Book Company, 1521 10th Ave, 624-6600, http://elliottbaybook.com, 7 pm, free.
Tuesday, September 18: Sikh Captain America
You've probably seen Vishavjit Singh in Seattle media over the last few months. Signh, who dresses in a modified Captain America costume, uses cartoons and comics to fight racism and intolerance. His exhibit "WHAM! BAM! POW! Cartoons, Turbans & Confronting Hate" is currently on exhibit at the Wing Luke Museum.
Seattle Public Library, 1000 4th Ave., 386-4636, http://spl.org, 6 pm, free.
Wednesday, September 19: WordsWest Literary Series
Seattle fiction writer Greg November possesses the kind of resume that authors used to have: he worked as a "house painter, truck driver, forklift driver, knife salesman, generator salesman, executive assistant to the general manager of a luxury hotel in Santa Barbara, and fulfillment coordinator in a chemical history museum." He'll be joined by poet Joannie Strangeland for this installment of West Seattle's best reading series.
C&P Coffee Co., 5612 California Ave SW, http://wordswestliterary.weebly.com, 7 pm, free.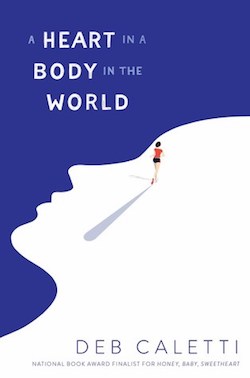 Thursday, September 20: A Heart In a Body in the World Reading
Seattle author Deb Caletti's new novel is about a young woman who runs from Seattle to the other Washington — Washington DC. The book is about grief and overcoming pain and trauma.
University Book Store, 4326 University Way N.E., 634-3400, http://www2.bookstore.washington.edu/, 7 pm, free.
Friday, September 21: The Sarrocco Siblings
Former Seattle author Nicole Sarrocco is the author of a great poetry collection titled
Karate Bride
. She is now two volumes into a memoir. The first memoir is titled
Lit By Lightning
and the second is titled
Ill-Mannered Ghosts
. Tonight, she's joined by her brother, who frequently reads in Seattle.
Arundel Books, 212 1st Ave S, https://www.arundelbooks.com/, 6 pm, free.
Saturday, September 22: Hugo House Grand Re-Opening
See our Literary Event of the Week column for more details.
Hugo House, 1634 Eleventh Avenue, 322-7030, http://hugohouse.org., 7 pm, free.
Sunday, September 23: Kindred Comic Reading
It takes a lot of guts to adapt one of Octavia Butler's most beloved novels into comic form. Tonight, artist John Jennings and writer Damian Duffy will read from their adaptation of Kindred, which has been reviewed surprisingly well. If you've ever wondered how comics artists adapt literature into comics, this is your best opportunity to ask someone who's done it. Elliott Bay Book Company, 1521 10th Ave, 624-6600, http://elliottbaybook.com, 3 pm, free.