Monday, September 24: Teaching for Black Lives Reading
See our Event of the Week column for more details.
Langston Hughes Performing Arts Institute, 104 17th Ave S. https://www.langstonseattle.org/, 7 pm, $5.
Tuesday, September 25: Chain Letter
The most continuity-obsessed reading series in Seattle continues tonight with poet Willie James, multi-hyphenate writer and open mic host
Kate Berwanger
, and poet
Morris Stegosaurus
. The reading will be followed by an open mic.
Vermillion Art Gallery and Bar, 1508 11th Ave., 709-9797, http://vermillionseattle.com, 7 pm, free.
Wednesday, September 26: The Dead Reading
BookForum
describes Swiss novelist Christian Kracht's
The Dead
as "like a reboot of J. G. Ballard's
Crash
, in a treatment by Wes Anderson, after a weekend spent binge-watching John Schlesinger's version of
The Day of the Locust
." That's, uh, a lot of comparisons.
Elliott Bay Book Company, 1521 10th Ave, 624-6600, http://elliottbaybook.com, 7 pm, free.
Thursday, September 27: South Asian Writers of the Pacific Northwest
Help the Hugo House celebrate its first week in operation since moving back home with a passel of local authors including Jordan Alam, Sasha Duttchoudhury, Jasleena Grewal, Shankar Narayan, and your host Sonora Jha.
Hugo House, 1634 11th Avenue, 322-7030, http://hugohouse.org, 7 pm, free.
Friday, September 28: Brave New World
The first Hugo Literary Series event in the House's new space happens tonight. If it's been so long that you've forgotten the deal: three writers (including at least one nationally known author) and one musician compose new work on a theme. Tonight's theme is "Brave New World" and the artists are writers Jim Shepard, Cedar Sigo, Sabina Murray, and musician Anhayla.
Hugo House, 1634 11th Avenue, 322-7030, http://hugohouse.org, 7:30 pm, $25.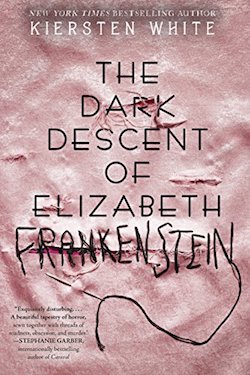 Saturday, September 29: The Dark Descent of Elizabeth Frankenstein Reading
It's almost October, which means it's time for creepy stories. This afternoon, Kiersten White reads from her novel that expands on the perspective of a young woman in the Frankenstein story. The Dark Descent of Elizabeth Frankenstein is in some ways a reconsideration of Mary Wollstonecraft Shelley's legacy. University Book Store, 4326 University Way N.E., 634-3400, http://www2.bookstore.washington.edu/, 5 pm, free.
Sunday, September 30: Dreamers Reading
Children's book author Yuyi Morales brings her new picture book memoir to town. It's a story about how she moved to the United States from Mexico in 1994 with nothing but some dreams and a baby in her arms.
Third Place Books Lake Forest Park, 17171 Bothell Way NE, 366-3333, http://thirdplacebooks.com, 7 pm, free.