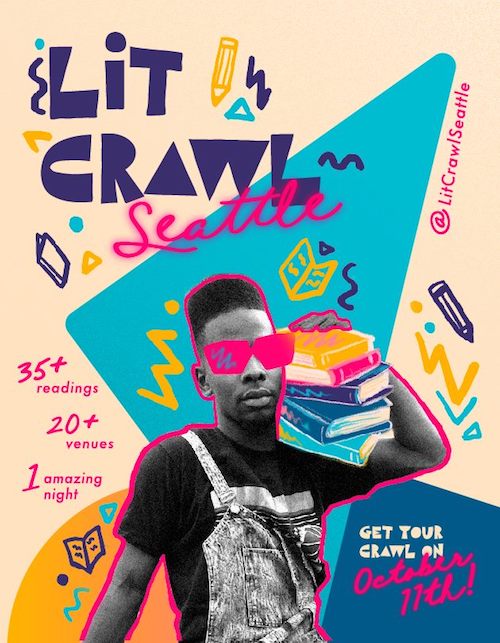 You're already saving the date for Thursday, October 11th, right? That's the night of Lit Crawl, which is arguably the biggest single event on Seattle's literary calendar — 40 events spread over dozens of venues in one night all across Capitol Hill, with a big dance party to cap it all off.
But you should also save the date for Thursday, October 4th. That's the kickoff fundraising party for Lit Crawl at Capitol Cider, with cocktails, an auction, a raffle, and live entertainment.
Last night, I talked with Lit Crawl managing director Jekeva Phillips and programming committee member Anastacia-Renée about what they have planned for this year's kickoff party and the Lit Crawl itself. The two writers are impossibly busy in their day-to-day lives — Anastacia-Renée is Seattle's Civic Poet and a prolific author, while Phillips is the publisher behind Word Lit Zine and many other projects — So I wanted to know how they also managed to put together the busiest day in Seattle's literary calendar year. What follows is an edited transcript of our conversation.
Is this your first year in your current role at Lit Crawl?
Jekeva Phillips: No, I was managing director last year, and this will be my fourth year. I started out at Lit Crawl as a volunteer, handing out pamphlets to folks and directing lines. The year after that I was invited to be a part of the venues and volunteers team, and then the torch was passed.
So that's kind of how I came to be where I am: Slowly but surely going from volunteer to managing director over the course of a couple years. Last year, my first as director, was a lot of fun. It's really interesting on this side of the fence.
Anastacia-Renée: It's my first year being on this side of Lit Crawl. In Seattle, I'm always trying to be the underdog who makes change. And I felt honored that Jekeva asked me to be the part of the programming committee because I felt like that was another way I can make change. I don't mean change in terms of previous Lit Crawls — I mean change in terms of how Seattle views itself.
First of all, I think Jekeva Phillips is one of the most underrated African-American/POC makers and changers in the city. Jekeva does a lot of work, and I don't think she is recognized in the way that she should be. When I heard Jekeva was involved, I said "I want to do that."
Second of all, I think Seattle gets set in its ways — there's a certain idea of what it means to be a professional writer. As Seattle Civic Poet, and someone involved at Hugo House, I've been trying to tell people, "you are missing out on some of the best writers and artists in this city because you have this small point of view of what a professional writer is." Lit Crawl gives me an opportunity to say that just because you don't know about this writer, or because they don't have fifteen books published, or because they're not a cis white male, doesn't mean they're not amazing. I get to help show the community what they're missing.
Jekeva Phillips: Anastacia is always so warm and giving and she always sees the brilliance in people. That's what I wanted to bring to Lit Crawl: different kinds of POC voices, queer voices, trans voices. There are so many writers hiding in the margins of the city, and it takes the kind of person who cares about people like Anastacia does to give them a chance. We love those voices, we love to say "hey, this person is awesome and we should put them on the same platform as everyone else."
For one night we just share our love of books and poetry and nonfiction. We all kind off come together. it doesn't matter if you're a sci-fi writer or a literary fiction writer — we're showcasing that there's always something for everybody, and everybody's got power.
What do you think makes a great reading?
Anastacia-Renée: I really appreciate when I can traverse genres. Even though I'm a cross-genre hybrid writer, people always ascribe me to poetry. But I write non-fiction, I write flash fiction. We're all writers. We don't have to stay in our little compartments. Genre freedom is a must. Free the genre! Free the nipple, free the genre. That's the title of your piece right there. We can be together — we can actually be together on one stage and share our work.
Jekeva Phillips: I also wanted to say everyone has done such a great job and it's been so much fun. It's a great team: Vi Tranchemontagne does programming and venues, Kathleen Flinn works on programming, and Julia Hands does our marketing and PR. It is such a labor of love and we all are laughing all the time. Together, we really put together a really great program.
We'll have over 40 events in one night in different venues. It's very stressful when you think about it that way, but there's no drama. We push boundaries, and we support each other creatively.
Anastacia-Renée: I totally agree. I've been a part of other committees, and I think there's a feeling here of camaraderie and a feeling that I'm safe. I've been a part of committees where i didn't feel safe — I had the sense that I was there only because of tokenism. Here, there's a shared vision of awesomeness — the amazing feeling when you want everyone to succeed.
Jekeva Phillips: Seattle gets caught up in a set way that we think about what it means to be a writer, and we try to challenge that at Lit Crawl.
I really love Katy Davis's design for our poster this year. I wanted something that makes books fun. I don't understand why we think about books as being this nerdy, educated highbrow thing. We should think about books as something fun. They're cool. You know, I've read all the classics, I'm not pooh-poohing them. But I wanted something that's fun, that's urban, that's engaging with a cool vibe. I want people to think about books the way they think about TV shows and bands.
Anastacia-Renée: I think the poster totally captures the feeling of Lit Crawl. I think music-lovers get it more than writing lovers. You don't see anyone saying, "this kind of music is actually the only real kind of music," or "I don't know, I'm only listening to such-and-such right now."
I need writers to get on board with this: The other arts have diversified what they think is special and good. You go to a museum and it's not one kind of art. It's not one thing. It's a lot of different kinds of art.
This is what i love about Lit Crawl: When you think about it, it's the one time of year when I feel that you get the whole Seattle experience for free in one night. It's actually kind of amazing. I know you can't print this, but it's fucking fantastic.
Jekeva Phillips: A big reason why it's free is because of our fundraiser on October 4th. We have fun things we're going to be auctioning off — items with different price ranges. We'll have things on the cheaper side that are better for our writer and artist friends, but we'll also have items like a voiceover class and different works of art.
We wanted to bring some fun stuff to the Lit Crawl fundraiser kickoff party this year, which is why we asked Briq House. She's a body-positive burlesque performer, and she'll be doing a literary/Halloween-themed burlesque dance. We love books, but we also love to party.
Anastacia-Renée: We writers are not all sitting by windows counting sparrows. We like burlesque and we love fun.
Every Lit Crawl, I discover at least one writer who just completely blows me away that I've never seen before. Where do you find these folks?
Jekeva Phillips: I go to a lot of readings and so does Anastacia. And I'm going to give a lot of credit to our programming team.
There are whole communities up in Everett and Lynnwood that are doing great things, and if they can come down here for one night and showcase those skills, maybe people from Seattle will start visiting them.
Anastacia-Renée: I think my specialty is finding people who are gems who have not been asked by Hugo House or Jack Straw or Elliott Bay. In fact, I make it my mission. My mission is to find the gems that you don't even know are gems. And then I'm interested in what would happen if two people who are totally opposites read together. Those are my two strengths. I don't always set out to look for POC readers or queer readers or trans readers, but those are often the gems who need recognition.
Jekeva Phillips: Talking about what you said about being blown away: I think the best events always linger. When I leave the reading, I can't forget about what they read because their perspective is fresh. They demand an audience.
Anastacia-Renée: Going back to the music analogy, if you really like a band, you're not going to keep them to yourself. No — you're going to tell people about them. I feel that way about really great readings, too.