Monday, October 8: Everyday People Reading
Jennifer Baker is the editor of a short story anthology titled Everyday People: The Color of Life. Tonight, she's presenting the book with Seattle contributors including Anastacia-Renee, Dennis Norris II, and Jessica Rycheal. Seattle Public Library, 1000 4th Ave., 386-4636, http://spl.org, 7 pm, free.
Tuesday, October 9: Four Poets
We are big fans of Seattle poet E.J. Koh. Tonight, she reads with three other poets including Keegan Lester, Carly Jo Miller, and the delightful Jane Wong. Think of this as your Lit Crawl pre-funk. Elliott Bay Book Company, 1521 10th Ave, 624-6600, http://elliottbaybook.com, 7 pm, free.
Wednesday, October 10: A Year of Living Kindly Reading
Look: try to be kind, okay? Donna Cameron's new book is about changing the world through small acts of kindness. I know this feels like lunacy in a world with egregious acts of unkindness happening all around us at all times, but maybe that's exactly why it's important to think about kindness right now.
Third Place Books Lake Forest Park, 17171 Bothell Way NE, 366-3333, http://thirdplacebooks.com, 7 pm, free.
Thursday, October 11: Lit Crawl
See our Event of the Week column for more details.
Everywhere. 6 pm - late.
Friday, October 12: Terrible blooms reading
San Francisco writer Melissa Stein's latest poetry collection,
Terrible blooms
, was published by Port Townsend's own Copper Canyon Press. Stein is joined tonight by wondrous Seattle poet Sarah Galvin.
Open Books, 2414 N. 45th St, 633-0811, http://openpoetrybooks.com, 7 pm, free.
Saturday, October 13: Pistil Books 25th Anniversary
Pistil Books was a brick-and-mortar bookstore in the Pike/Pine neighborhood (roughly where Bimbo's is today.) They still have a flourishing online bookstore, and they've officially been in business for 25 years, which is a big deal. Tonight, they're celebrating with cake and with readings by Capitol Hill authors Rebecca Brown and Stacey Levine. This will be a good evening for nostalgia and for looking forward. Pistil Books, secret location, please RSVP to pistil@speakeasy.net.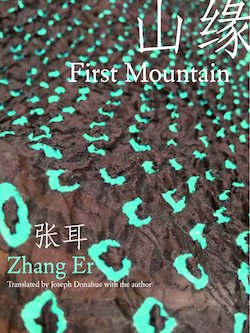 Sunday, October 14: First Mountain Reading
Did you know that a world-class, expert translator of Chinese poetry lives and works in Olympia? Her name is Zhang Er, and her latest book of poetry is titled
First Mountain
. It was written in Chinese and translated by Zhang Er herself and Joseph Donahue. This afternoon, she reads with Leonard Schwartz, author of
Salamander: A Bestiary
.
Elliott Bay Book Company, 1521 10th Ave, 624-6600, http://elliottbaybook.com, 3 pm, free.