Monday, October 15: Not Heaven, Somewhere Else Reading
I've already told you why you should read Rebecca Brown's new collection, Not Heaven, Somewhere Else: A Cycle of Stories. But if you're still not convinced, you should attend this reading, and hear the work in the author's own words. Find out why I am 100 percent positive that Brown is the smartest writer in Seattle — and also find out why she's often the most joyful reader in town on any given night. Elliott Bay Book Company, 1521 10th Ave, 624-6600, http://elliottbaybook.com, 7 pm, free.
Tuesday, October 16: Ted Chiang and Karen Joy Fowler in Conversation
Everyone should know that Ted Chiang, author of the story that was the basis for the excellent film Arrival, is from the Seattle area. he's one of the best-loved writers within the sci-fi community, and for a great reason: he's smart, he's kind, and he loves to be generous with his knowledge. Tonight, Chiang will be in conversation with nationally loved sci-fi writer Karen Joy Fowler. This should be a sci-fi conversation for the ages. Hugo House, 1634 11th Avenue, 322-7030, http://hugohouse.org, 7 pm, $10.
Wednesday, October 17: WordsWest 38
West Seattle's best reading series continues tonight with a reading along the theme "Girls & Daughters." The readers are a coupling that never occurred to me before, but which makes perfect sense: Stacey Levine and Anca Szilágyi. Levine has been writing and reading in Seattle since the 1990s — she had a single on Sub Pop back in the day — and Szilágyi's work has a fair amount of Levine's DNA in it. This is a fascinating duet.
C&P Coffee Co., 5612 California Ave SW, http://wordswestliterary.weebly.com, 7 pm, free.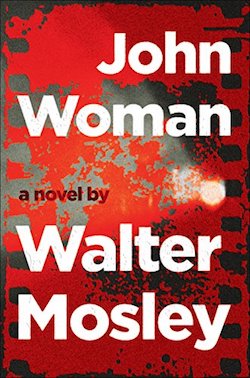 Thursday, October 18: Walter Mosley
Walter Mosley is an iconic author — one of the few writers left who draw a massive audience on the strength of his name alone. (And he always dresses like a star for his readings.) His latest book, John Woman, is about a man with a mysterious past. Northwest African American Museum, 2300 S Massachusetts St, 518-6000. http://naamnw.org, 7 pm, free.
Friday, October 19: What We Do with the Wreckage Reading
Local author Kirsten Sundberg Lunstrum, who contributed to the excellent This Is the Place anthology, reads from her new award-winning short story collection, What We Do with the Wreckage. It's about rising above the horrors of the past. *Third Place Books Lake Forest Park, 17171 Bothell Way NE, 366-3333, http://thirdplacebooks.com, 6 pm, free.
Saturday, October 20: New England Review Anniversary Reading
Okay, obviously the
Seattle Review of Books
isn't ordinarily the place to celebrate the 40th anniversary of a magazine titled the
New England Review
, but get a load of the authors who'll be coming to this event: Keetje Kuipers, Eric McMillan, Susan Rich, Rick Barot, Gabrielle Bates, Martha Silano, and Lena Khalaf Tuffaha. We can set aside our famous feud against New England for one afternoon for this lineup.
Open Books, 2414 N. 45th St, 633-0811, http://openpoetrybooks.com, 7 pm, free.
Sunday, October 21: Killing Marías Reading
See our Event of the Week column for more details.
Rainier Arts Center, 3515 S Alaska St, 725-7517, http://www.rainierartscenter.org/, 2 pm, free.