Monday, October 22: Half-Breed Reading
Half-Breed is a reading and musical performance by PC Muñoz, who will at this show be releasing his album Physical Science, which has a companion chapbook titled Inside Pocket of a Houndstooth Blazer. Here is a trailer for the event:
Hugo House, 1634 11th Avenue, 322-7030, http://hugohouse.org, 7 pm, $10.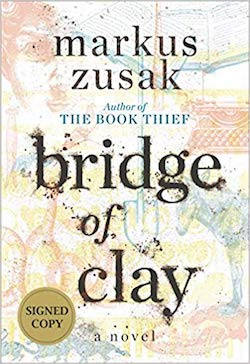 Tuesday, October 23: Bridge of Clay Reading
The author of runaway bestseller
The Book Thief
returns to Seattle with his first book since
Thief
— a novel about five brothers who scour the world looking for the truth behind their enigmatic father.
Third Place Books Lake Forest Park, 17171 Bothell Way NE, 366-3333, http://thirdplacebooks.com, 7 pm, free.
Wednesday, October 24: Entre Ríos Books Anniversary Reading
The local poetry publisher celebrates three years in the cut-throat publishing business with some short films and a great lineup including...
...Rachel Kessler, Melinda Mueller, Maya Jewell Zeller, and E. Briskin. Hear new translation work by Deborah Woodard and play excerpts from Christine Deavel and J.W. Marshall.
Hugo House, 1634 11th Avenue, 322-7030, http://hugohouse.org, 7 pm, free.
Thursday, October 25: Two Readings in South Seattle
See our event of the week column for more details.
Third Place Books Seward Park, 5041 Wilson Ave S, 474-2200, http://thirdplacebooks.com, 7 pm, free. Type Set, 3827C S Edmunds St, https://www.typesetseattle.com/, 7 pm, free.
Friday, October 26: Courageous Pursuits
Four new authors — Cathy Zane, Lisa Reddick, Donna Cameron, and Barbara Stark-Nemon — talk about their new books:
Better Than This
,
The Same River
,
A Year of Living Kindly
, and
Hard Cider
, respectively.
Secret Garden Books, 2214 NW Market St., 789-5006, http://secretgardenbooks.com, 7 pm, free.
Saturday, October 27: Contemporary Fairy Tales
One of Seattle's finest authors, Anca Szilagyi, teaches you how to write your own fairy tale in this free class at Seattle Public Library. Szilagyi's debut novel uses fairy tale imagery to tell a story that feels pointed and new. Maybe this is how that novel, Daughters of the Air, got its start! helps you write your own fairy tale *Seattle Public Library, Queen Anne Branch, 400 W Garfield St, http://spl.org, 2 pm, free.
Sunday, October 28: Invasions Reading
Michelle Tea says of Seattle author Calvin Gimpelevich's collection of short stories, "
Invasions
blew my mind. Flipping between speculative worlds deeply rooted in realness and emotion and more familiar landscapes that tip on the edges of personal apocalypses, Gimpelevich's writing is strong and sure, taking us places we really haven't been. I'm hooked." Gimpelevich has connections to local arts organizations Artist Trust, Jack Straw Cultural Center, and 4Culture, so this book debut party is a real hometown celebration.
Elliott Bay Book Company, 1521 10th Ave, 624-6600, http://elliottbaybook.com, 7 pm, free.