Every week we ask an interesting figure what they're digging into. Have ideas on who we should reach out to? Let it fly: info@seattlereviewofbooks.com. Want to read more? Check out the archives.
Priscilla Long is a Seattle-based writer of poetry, creative nonfiction, science, fiction, and history, and a long-time independent teacher of writing (and yet, somehow, this list undersells her). The second edition of her wonderful The Writer's Portable Mentor: a Guide to Art, Craft, and the Writing Life is just being released by the University of New Mexico Press. She'll be appearing tonight at 7:00 pm to talk about this at the Elliott Bay Book Company.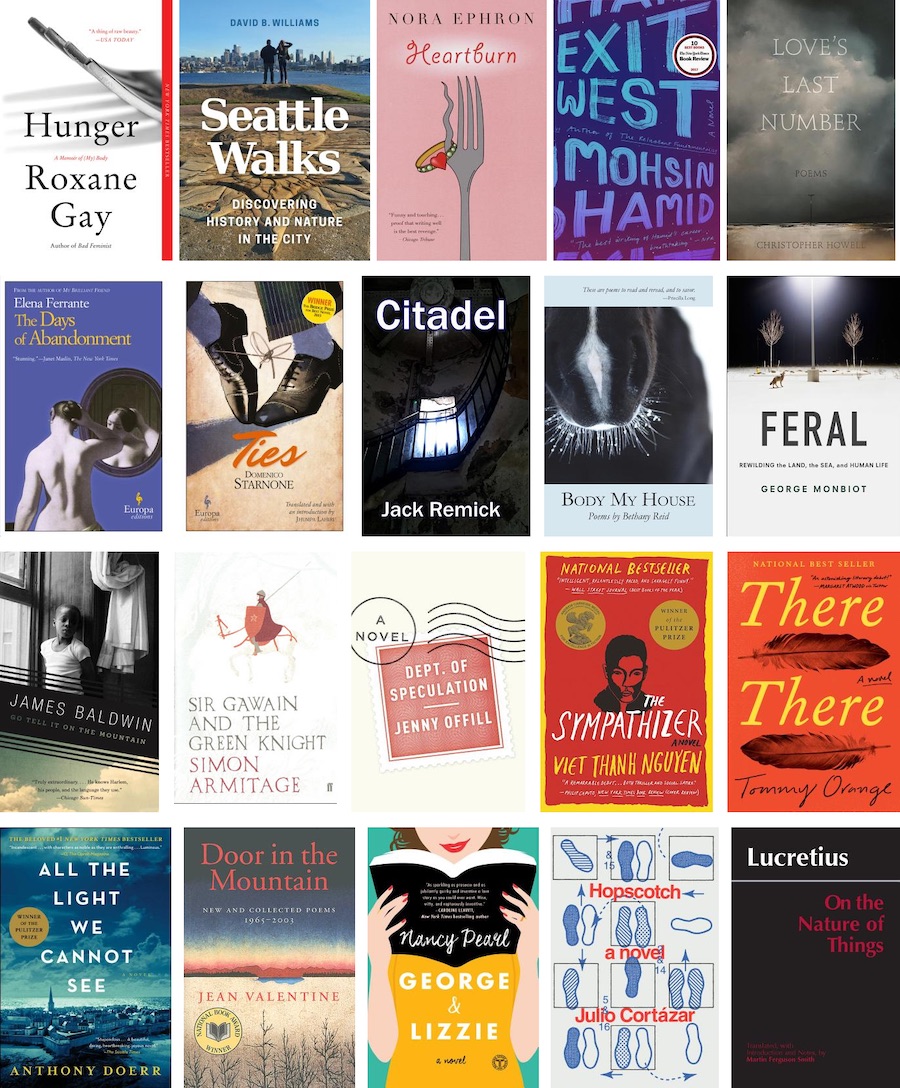 What are you reading now?
I read two, four, five books at once. I set the limit at five. I mean, really. Okay, so, now I am reading Roxane Gay's Hunger. Wow. Talk about #MeToo. And what a fantastic writer. What insight she brings to the subject of the body. What sentences she brings to the page. For poetry, Christopher Howell's Love's Last Number. Do we need to say one more thing about Howell's great poetry? I am still reading David B. Williams's Seattle Walks, walks that elucidate our history and geography, and believe it or not, I have walked all 17 walks. I will walk a few again. I thought I knew Seattle but learned something new on every walk. I am reading Exit West by Mohsin Hamid. A moving love story set in the violence and dislocation of the world as we know it.
What did you read last?
I've read a set of three novels about breakups, each one totally different and each one a great read. (No, I am not breaking up with anyone or anything.) Start with Heartburn by Nora Ephron, in which the narrator provides recipes, including that of the lime pie she puts in the face of her soon-to-be-former husband. Then The Days of Abandonment by Elena Ferrante. A beautiful thing. And third, Ties by Domenico Starnone, translated from the Italian by Jhumpa Lahiri. This family drama brings the word dysfunctional to new depths. I've just read my friend Jack Remick's Citadel, a powerful apocalyptic novel of the future in which women have had enough of the violence of men and have kicked them out (of the world). And then I read my friend Bethany Reid's new book of poems, Body My House (full disclosure: I wrote the foreword). They are wicked and delightful. For science, Feral: Rewilding the Land, the Sea, and Human Life by George Monbiot. A fascinating rethinking of ecological restoration. Finally I must mention The Sympathizer by Viet Thanh Nguyen. A great work of literature, if you ask me. The language! The story of three friends and the ways they get caught up in the long aftermath of the Vietnam War.
What are you reading next?
Oh my gosh. There There by Tommy Orange. And to complete the set on the dislocations of breaking up, Department of Speculation by Jenny Offill. I have yet to read All the Light We Cannot See by Anthony Doerr and it is sitting there on the pile, waiting, waiting. I am rereading James Baldwin; Go Tell It on the Mountain is next. I love to read one very old book every year. Last year it was Sir Gawain and the Green Knight translated from Middle English by Simon Armitage. This year I can't decide. On the Nature of Things by Lucretius? Maybe. Sitting there winking at me is Hopscotch by Julio Cortazar, a writer I adore. Also winking: 2666: A Novel by Roberto Bolaño, another writer I adore. Next will be George and Lizzie by Nancy Pearl. For poetry I have waiting for me Door in the Mountain: New and Collected Poems by Jean Valentine. I will stop here. I worry about the pile falling on my head and knocking me unconscious.