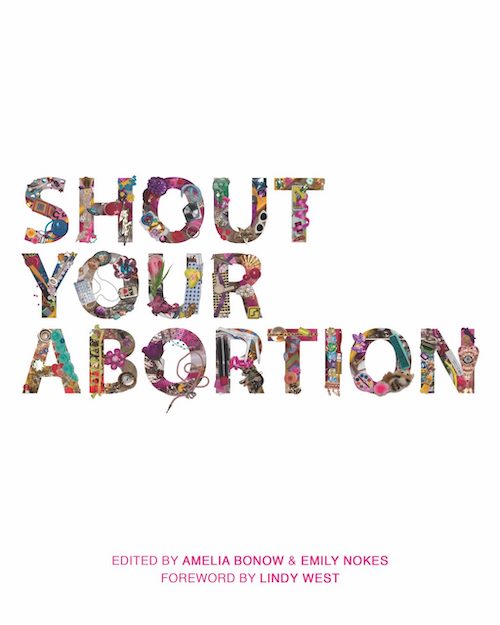 Shout Your Abortion is an international movement, but it was created right here in Seattle, and most of its organizing work is still done here. I've encountered men and women — older, mostly, but not always — who think the name itself is too loud. They bristle at the word "shout" in conjunction with the word "abortion." They think it's too un-reverential, that it's too, well, loud.
"We are conditioned to speak about abortion with reverence and a bit of melancholy, if we speak about it at all," Lindy West writes in the introduction to the new Shout Your Abortion anthology. She continues, "But feeling relieved after my abortion didn't make me part of some radical vanguard, it made me utterly mundane."
In a foreword to the book, Amelia Bonow, the founder and chair of SYA, says that she wrote about her abortion in a public Facebook post in the hopes of launching a conversation from a "constructive place of discomfort." That post, with the help of West and dozens of other Seattle women, eventually became the SYA organization.
And now, there's a book. Shout Your Abortion is in many ways a polished version of the SYA zine I wrote about back in June of 2016. It collects the voices of women who have had abortions, tells the stories of abortion providers, and offers inspiration for anyone who wants to take up the SYA charge through art or politics.
The personal stories are from a diverse array of women including lots of Seattle writers (Lesley Hazleton, Angela Garbes, West, Bonow) and they're illustrated with big full-color photographs of the women looking strong and happy and defiant and, well, perfectly normal. Shout Your Abortion is illustrated throughout with photos and collages and comics (Seattle cartoonists Tatiana Gill and Robyn Jordan both contribute autobiographical strips) and lots of SYA paraphernalia. Maybe here is a good place to disclose that the book is co-edited and designed by Emily Nokes, who, along with West, was my coworker at The Stranger for many years and is still a dear friend.
All of these stories are incredibly powerful, but the words in Shout Your Abortion that struck me the deepest are the slogans, which feel so honest that they're practically transgressive:
OUR STORIES ARE OURS TO TELL
THIS IS NOT A DEBATE
EVERYONE KNOWS I HAD AN ABORTION
ABORTION IS NORMAL
I USED TO THINK ABORTIONS WERE BAD, BUT NOW I DON'T
THANK GOD FOR ABORTION
The shouting is necessary because for too long, even self-described progressives have whispered about abortion, been ashamed of it. Bill Clinton propagated the idea that abortion should be "safe, legal, and rare." But here's the thing: that kind of thinking is a concession. It's saying that women's sexuality should be restricted and controlled. It's saying that abortion would not exist in a perfectly just world. It's saying that abortion is something that should not be discussed in polite company.
And here's the thing about polite company: polite people don't get shit done. Hence, the shouting. We have to shout about abortion now so that we can talk about it wherever we want in years to come.
This Saturday, Bonow and Hazleton and contributors including Miki Sodos, Alana Edmondson, S. Surface, Alayna Becker and Shawna Murphy will launch the Shout Your Abortion anthology into the world with a great big party. Expect it to be pretty loud.
Elliott Bay Book Company, 1521 10th Ave, 624-6600, http://elliottbaybook.com, 7 pm, free.