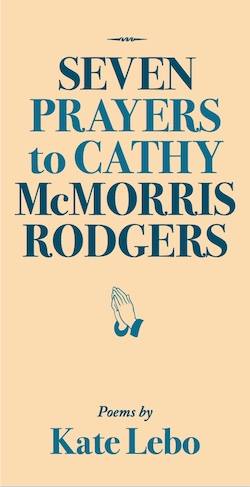 Happy Election Day! While we wait for ballots to drop, might I recommend you spend some time with Spokane-by-way-of-Seattle poet Kate Lebo's short poetry collection
Seven Prayers to Cathy McMorris Rodgers
? This little book really feels like a creature of this exact moment in time: politics and prayer and sarcasm and earnestness, all crammed into what is basically a political pamphlet. Lebo's "prayers" to Spokane's Congressional representative are the kind of pleas that we've all been making in our minds for the last six months.
My favorite poem in the collection is "A Prayer to Cathy McMorris for the Preservation of My Health Insurance" and it begins:
Cathy, when you were a doctor

did you hate how our government bossed you,

how The Man just had to get his hand

in there? I need to know, Cathy, I'm scared.
At a time when elected officials barely seem to care about their constituents, this book takes that helpless feeling and amplifies it. This is a call from a constituent to her uncaring representative, and it's the perfect book to read on an Election Day that could go down in history as the day on which the union was saved or lost. I'm willing to bet that a few atheists out there are throwing some prayers into the air over these election results, just to cover all their bases. To those of my fellow atheists who are right now praying like Lebo to their uncaring representatives, all I can really say is this: Amen.