Every week we ask an interesting figure what they're digging into. Have ideas who we should reach out to? Let it fly: info@seattlereviewofbooks.com. Want to read more? Check out the archives.
Marilyn McClellan is a retired middle school counselor, writer, ex-library board member, mystery aficionado and collector, and, also, my mom. She's one of the most voracious readers I know, and taught me that a good reader reads broadly. What better way to end a week of thanks then asking someone I love what they've been enjoying lately? She tracks her reading on GoodReads, if you care to follow along.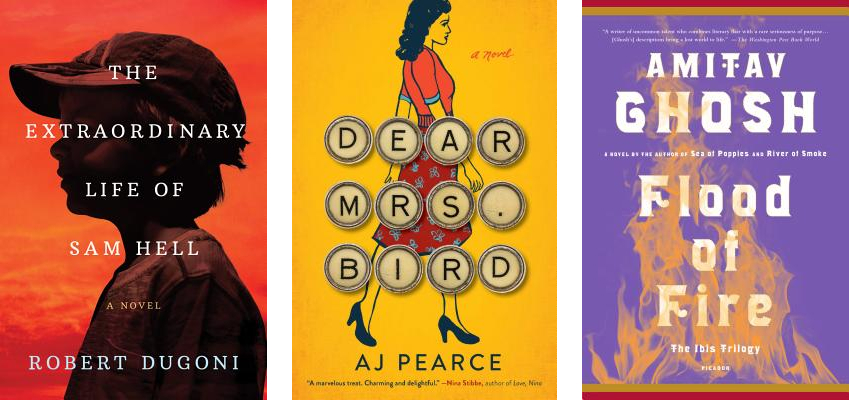 What are you reading now?
In June I went to hear a panel of writers speaking at the Bothell library. One of those writers was new to me, a Seattle writer named Robert Dugoni, and the librarian that presented him highly praised his new book, The Extraordinary Life of Sam Hell. It has taken a few months to get to it, but it is a most enjoyable read about an eye doctor who was born with red pupils and as a child was called "Devil Boy" by the other students. He muses on his life and choices and his relationship with two friends who were also outcasts.
What did you read last?
Dear Mrs. Bird, by AJ Pearce. It was a charming little novel about a young woman who has a menial job at a newspaper for a formidable boss. Placed in London during the blitz, I was a bit surprised by the scenes of people attempting to function normally in the nightly presence of bombs and those who valiantly worked among ruins to put out fires and locate survivors. The author's wartime portrayal of London was fascinating, but I especially enjoyed the heroine's going against her boss to secretly answer the letters to readers who ask for advice during those difficult times.
What are you reading next?
Another book in my "to read" pile is Flood of Fire by Amitav Ghosh. I long ago finished the first two books in his Ibis Trilogy, Sea of Poppies and River of Smoke. I read the second book while in Hong Kong visiting my daughter, which was particularly relevant because of the setting. The books deal with the trafficking of indentured servants and trade of opium in the 19th century and Ghosh has been short listed for several prizes for the trilogy.