Monday, November 26: Revolution in the Air Reading
Three authors join forces to discuss the legacy of 1960s protest culture, from modern activism to Donald Trump. The readers are Max Elbaum, author of Revolution in the Air: Sixties Radicals Turn to Lenin Mao and Che; Cindy Domingo, co-editor of A Time to Rise: Collective Memoirs of the Union of Democratic Filipinos; and Michael Withey, author of Summary Execution: The Seattle Assassinations of Silme Domingo and Gene Viernes. While my generation was practically crushed beneath the weight of 60s nostalgia, this evening sounds like a thoughtful and appropriate consideration of what was, what is, and what will be. Third Place Books Seward Park, 5041 Wilson Ave S, 474-2200, http://thirdplacebooks.com, 7 pm, free.
Tuesday, November 27: Made at Hugo House Fellows Showcase
Former members of the Hugo House's writing program for young local authors come together to read new work. Made at Hugo gives writers resources, space, and a peer group in the hopes that they'll make new and exciting work. Here's where we see if all that work pays off. Readers include Steven Barker, Bill Carty, Sierra Golden, and Shankar Narayan. Also reading tonight will be the great Laura Da', who is this month's Seattle Review of Books poet in residence.
Hugo House, 1634 11th Avenue, 322-7030, http://hugohouse.org, 7 pm, free.
Wednesday, November 28: WordsWest
Three Bellingham writers head to West Seattle for the latest edition of WordsWest. The Bellinghamsters in question are poet Bruce Beasley, memoirist Suzanne Paola, and poet and fiction writer Carol Guess. Since we're now officially in the holidays and the holidays are for giving, this edition of WordsWest will also feature a bake sale to raise money for the West Seattle Food Bank. C&P Coffee Co., 5612 California Ave SW, http://wordswestliterary.weebly.com, 7 pm, free.
Thursday, November 29: The Feral Detective Reading
See our Event of the Week column for more details.
Elliott Bay Book Company, 1521 10th Ave, 624-6600, http://elliottbaybook.com, 7 pm, free.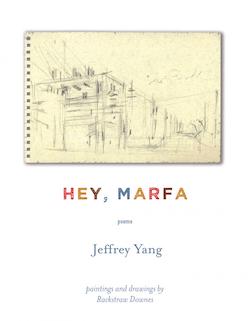 Friday, November 30: Hey Marfa Reading
The poet Jeffrey Yang appears in conversation with Seattle author Don Mee Choi to celebrate the release of
Hey Marfa
, a collection set in what the
New York TImes
has characterized as the "improbable art mecca in the Texas badlands."
Hey Marfa
's publisher, the great Greywolf Press, calls the book "a desert diary scaled to music that aspires to emit particles of light."
Hugo House, 1634 11th Avenue, 322-7030, http://hugohouse.org, 7 pm, free.
Saturday, December 1: Our Bruises Kept Singing Purple Launch Party
Malcolm Friend's debut poetry collection is a hip-hop inspired book with Latinx roots. Promotional materials describe Friend's voice as "a fearless weapon forged from South End Seattle, Puerto Rico, and Pittsburgh." He'll be joined by fellow poets Jasmine Schwartz, Luther Hughes, Lena Khalaf Tuffaha, and Quenton Baker to celebrate the book's birth. Rainier Arts Center, 3515 S. Alaska St, 652-4255. http://townhallseattle.org, 6:30 pm, $5.
Sunday, December 2: Writers in the Schools Celebration
Writers in the Schools is a program from Seattle Arts and Lectures that encourages Seattle schoolchildren to enjoy writing as an artform. This is party to celebrate this year's students, as well as the crowning of the city's brand-new Youth Poet Laureate. If you've been feeling cynical about the literary world lately, you'll want to come to this reading to charge up your batteries. Elliott Bay Book Company, 1521 10th Ave, 624-6600, http://elliottbaybook.com, 3 pm, free.