In her poem "Origin Story," Eve L Ewing writes "love is like a comic book. it's fragile/and the best we can do is protect it." Ewing is a restless genius: depending on how you came to her work, you might know her first as a poet or a visual artist or an activist or an academic.
But if you've follow Ewing on Twitter for any amount of time, you likely know that she's an unabashed nerd. And her poem about comic books, it turns out, was a premonition of another title for her yard-long resume: Riri Williams: Ironheart, Ewing's first project as a comic writer, was published by Marvel Comics yesterday.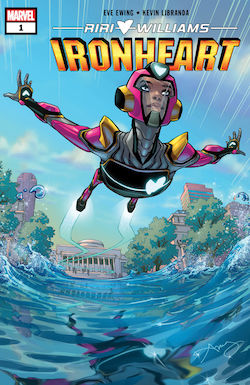 If you don't know anything about the character, Ewing catches you up in the first few pages of Ironheart. Riri Williams is a brilliant Chicago teen who, after tragedy strikes, reverse-engineers a suit of Iron Man's armor and decides to become a superhero.
Riri is a classic Marvel hero: impossibly smart, good-hearted, socially awkward, and a little bit of a self-defeatist. Ironheart #1 has pretty much everything you need in a superhero's first issue: character development, the introduction of a cast of characters, a villain with an ambitious plan, a big fight, and a soap-operatic last page twist.
The art by Kevin Libranda and Luciano Vecchio plays the range well — not every figure looks like a musclebound brute, the facial expressions are all clear and believable, and the action is imaginative. The coloring, by Matt Milla, is especially great. (You can see the light of Riri's phone on the underside of her nose when she gets a video call from a friend, and other nifty lighting tricks are handled subtly but intelligently.)
But for me, the real thrill of the issue is coming across Ewing's poetic flourishes in the dialogue. Riri takes a moment in a battle royale to appreciate her own accidental alliteration. The bad guy explains his plan, as is tradition, and then adds with a flourish, "You know, sometimes you just have to take a moment to revel in your own gifts." Indeed.
And Riri's personal motto — "those who move with courage make the path for those who live in fear" — isn't quite as catchy as Spider-Man's "with great power comes great responsibility," but it provides a complicated thesis for Ewing and company to explore over the rest of the series.
Ewing displays a natural talent for writing comics, and Riri is an interesting character who has enough provocative weaknesses to keep the story interesting for years to come. Ironheart is quite possibly the best first issue of a Marvel character since G. Willow Wilson and Adrian Alphona's Ms. Marvel. This comic is anything but fragile.