The Washington Center for the Book just announced their 2017 Seattle Reads title. From May 8th to 11th, Angela Flournoy will read from her debut novel The Turner House in locations around the city. SPL locations will carry plenty of copies of The Turner House in stock so you can take part. Here's their description of the book: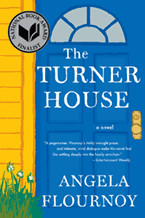 Angela Flournoy's multi-generational family drama focuses on the Turners, who have lived on Yarrow Street for over fifty years. Their house has seen thirteen children grown and flown; the arrival of grandchildren, the fall of Detroit's East Side, and the loss of a father. When Turner matriarch Viola is forced to move in with her eldest son, the family discovers that the house is worth just a fraction of its mortgage and Viola's children are called home to decide its fate. The Turners must reckon with how their past haunts-and shapes-their future.
We'll be writing about The Turner House in the months and weeks leading up to Flournoy's visit.