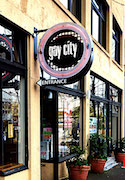 Well, you rendered Northwest Associated Arts' sponsorship useless by buying all the tickets to their Neil Gaiman event, so they kindly donated this week's sponsorship to a good cause: Gay City.
Did you know that Gay City has a 7,000 volume library centered around LGBT interest and focus? Please consider donating to Gay City to support their important mandate for supporting LGBT culture and health in our city.
Sponsors like Northwest Associated Arts make the Seattle Review of Books possible. Did you know you could sponsor us, as well? Get your stories, or novel, or event in front of our passionate audience. Take a glance at our sponsorship information page for dates and details.