Ordinarily, I use this space to write about the comics that I've read over the past week. But this Saturday is Free Comic Book Day — that nationwide celebration of the belief that there's a comic out there for everyone — and so we're going to look forward for a change. If you've never participated before, you should know that it's pretty simple: walk into the store, get some comics for free. If you have questions, ask the staff.
Where should you go? Well, there's a map of all the participating shops here. But a lot of local stores are throwing special events, too. A partial list: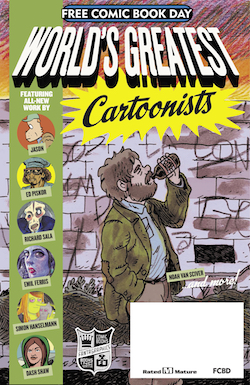 And what should you pick up? Well, you can find a full list of the Free Comic Book Day books here, and there's something for most everyone's taste. But here are a couple to look out for:
Have fun out there! Stay hydrated, get some free comics, maybe buy a comic or two, and follow along with us on Instagram as we travel around to some of our favorite shops.