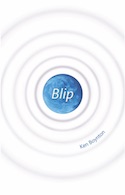 The title says it all: Blip. That's how long we've got, here. When sponsor Ken Boynton was in a nearly-fatal car accident, his perspective changed. Blip was his way to communicate his new-found awe for our short time on this planet.
See six spreads from this short, important book on our sponsor's page, and take a moment to consider your awareness of this moment. Like one reviewer on Amazon said: "...this book should be read by everyone multiple times."
Sponsors like Ken Boynton make the Seattle Review of Books possible. Did you know we sold out our last sponsorship run? We're booked solid through February 2018, but if you have a book, event, or project you'd like to get in front of our readers, reach out and let us know. We'll be able to crack open our calendars and reserve you ahead of the pack.