Victor LaValle is one of the most underappreciated novelists in America today. His debut novel The Ecstatic was less a shaky first outing and more a spectacular announcement of a singular talent. His last three novels — Big Machine, The Devil in Silver, and The Ballad of Black Tom — have addressed America's complicated relationship with race through the lens of horror fiction. (And before you ask, LaValle began exploring this relationship years before Get Out was anything more than a figment of Jordan Peele's imagination.) When it comes to genre fiction, he's one of our most fearless adventurers.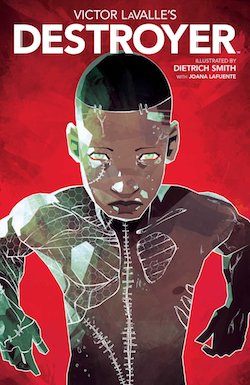 And now LaValle has conquered another medium. Yesterday saw the publication of the sixth and final issue of LaValle's very first comic series, Destroyer. Illustrated by Dietrich Smith, Destroyer is a modern-day recasting of the Frankenstein story. But this isn't a reboot; Destroyer is a sequel to Frankenstein. The original monster from the Wollstonecraft novel is still alive and menacing the characters of this story.
Destroyer's protagonist is a black teenage boy named Akai whose mother brings him back from the dead after he's slain by police. The book explores the mother-son dynamic and, since the mother is a descendent of Victor Frankenstein, the monster serves as a kind of lingering ancestral wrath. It's a story of grief and tradition and learning what you can and can't control about the things (and people) you create.
This sixth and final issue of Destroyer combines all those threads into one climactic scene. Every character gets an opportunity to make their case. ("Must be nice to be a father," Akai's mother notes bitterly, "Mothers are weighed on a broken scale.") The dynamics shift and realign and play out against a backdrop of America's forgotten history.
LaValle and Smith are creating high-level comics here. It's a book that is as personal as a love-letter, as brutally honest as a confession, and as of-the-moment as your Twitter feed. The final confrontation between Akai, his mother, and his father is just as internal and complex as any literary novel, but — because this is comics — it involves a giant, lumbering mech-battlesuit in mortal combat with a reanimated monster and a severed head.
The collected edition of Destroyer is set to arrive in bookstores in March of next year; if you've enjoyed allegorical takes on race in America like The Underground Railroad or Get Out, I urge you to reserve a copy at your favorite independent bookstore today.