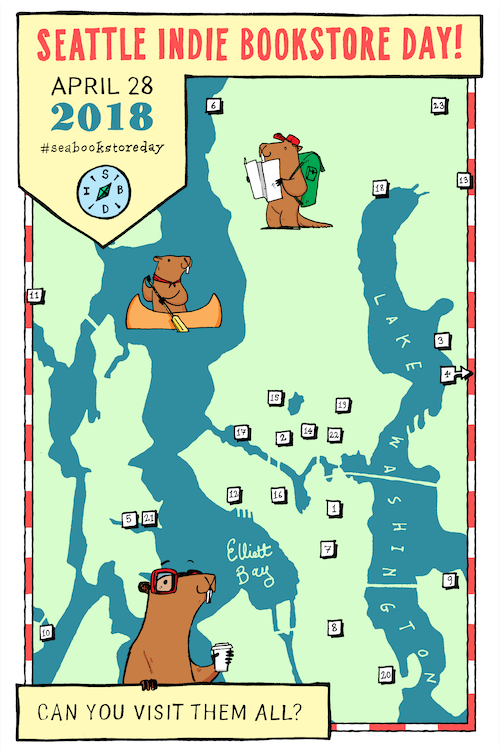 This Saturday, you should prepare yourself for the best independent bookstore celebration day of the year (at least until next Saturday's Free Comic Book Day and this November's Small Business Saturday.) Yes, it's Independent Bookstore Day, in which area bookstores offer up bargains, freebies, and special events to anyone who visits. (Earlier this month, I talked with the owners of two small local indie bookstores, Burien's Page 2 Books and Bothell's Neverending Bookshop, about their plans for the day.)
Independent Bookstore Day is intended to start a national conversation about the importance of independent bookselling, and it's pretty hardcore: hundreds of Seattle-area folks will be racing around the region in an effort to visit all 19 participating bookstores and get their special passports stamped. Everyone who succeeds in this mission will earn 25 percent off all purchases at every one of the bookstores for the next year. If you don't want to devote a whole day to driving around the region, you can get stamps from three bookstores and earn a one-time 30 percent off at any participating bookstore.
There will be a bunch of special items available on Saturday, including a broadside with art representing all the participating stores and a literary map of Seattle. Additionally, audiobook retailer Libro.fm-a wonderful site that partners with independent bookstores-will be offering several free audio books and samplers for download.
You're on this site, so you probably don't need me to lecture you about why bookstores are among humanity's greatest inventions. But you might need me to remind you that, even in the midst of a fairly dreary spring, it's important to show up for Seattle's Independent Bookstore Day, to be counted as a supporter of the amazing resources that our region enjoys. We're all on the same team, here. Now let's show up for each other.
See https://www.facebook.com/SEABookstoreDay/ for more information.