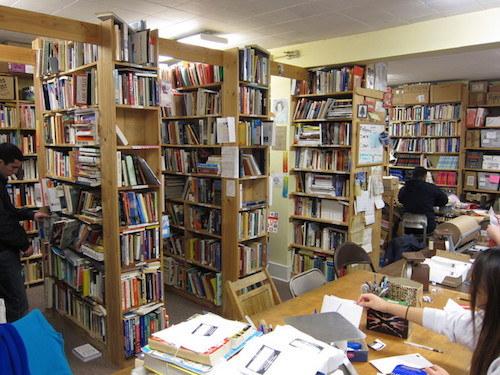 Since 2008, Seattle nonprofit Books to Prisoners has been based out of the University Christian Church in the U District. "It's a nice space," Books to Prisoners vice president Andy Chan tells me. "It's about 900 square feet when you include our storage." From those cozy offices, Books to Prisoners has shipped thousands of books to prisons around Washington state and the rest of the country.
But now, Chan says, things are about to change. "Basically, like a lot of churches," he says, University Christian Church is "suffering from a decrease in congregation size, so they're making the hard decision to congregate with another church." That means the space the church provided for Books to Prisoners and other social service organizations is disappearing. Books to Prisoners has to find a new location in the next three months.
So now, Chan says, they need your help. If you know of any affordable office space for a great literary nonprofit, please let Books to Prisoners know. "What we're looking for is ideally 800 square feet," Chan explains. He's been with the organization since 1994, and "we've crammed into 600 square feet before," but "people are falling over each other and it's quite intimate." Additionally, a space that size "decreases the amount of storage you have," which means the organization's access to books is limited.
"We'd like a space that is somewhere close to transit because a lot of volunteers are on transit of some sort," Chan says. "Parking, so we can load and unload, would be helpful," along with a ramp or elevator if it's not on the first floor because Books to Prisoners is always "moving a lot of cartons of books," and if stairs are involved "people's backs are always going out."
"And an incredibly cheap rent would be helpful," Chan says. "Our expenses are about $50,000 per year," with only one paid part-time staffer. Books to Prisoners, he says, spends "$30,000 on postage" annually. A high rent would limit the books the organization could send out and "would be really difficult for us to manage." (You can find a full description of Books to Prisoners's office needs on their blog.)
Of course, if you don't have a lead on a new office, you can still help Books to Prisoners. You could donate your time as a volunteer, or you could support the organization financially. Today is Give Big, the Seattle Foundation's annual donation drive for local nonprofits, and Books to Prisoners is a part of the program.
Over the last few months, prisons have been in the news for adopting policies barring organizations from delivering books to inmates. In New York state, Governor Andrew Cuomo reversed one such policy after a massive public outcry.
Is Books to Prisoners encountering more of these kinds of anti-book policies? "Here's the thing," Chan says: "We deal with these kind of problems constantly. They come up in the news sometimes, but it's something we face every year because we ship to all 50 states. Just last week, the feds backed down from a sweeping change" that would have made it harder to ship books to inmates.
Washington state's prisons have vacillated between more and less permissive book-shipping policies. Penitentiaries in Walla Walla and Connell have occasionally banned used books. What could be the reason behind a used-book ban? Chan suggests that prisons run by private companies have a vested interest in making sure inmates buy new books from the commissary.
Clearly, there's more need than ever for Books for Prisoners. "Books help prisoners to be better people," Chan says. His message for Seattle Review of Books readers: "if they have interest in literacy, in books, in allowing people to learn and better themselves while they're in prison, we're a great charity to give to. We spend almost nothing on overhead."
"It's a constant fight to make sure people have access to something incredibly basic," Chan says. He believes completely in the mission: "please, somebody find me an argument for why it would be a terrible idea to give books to prisoners," he says. "I'd love to hear it."