Every month, Nisi Shawl presents us with news and updates from her perch overlooking the world of science-fiction, fantasy, and horror. You can also look through the archives of the column.
One of us
I hate "diversity." Diversity is a white person word. A male, cis, het, able-bodied word. A word that presumes its own characteristics are the world's default settings even as it seeks to leaven them with "otherness." That arrogant lack of awareness is why I prefer to talk about inclusiveness in SFFH. Inclusiveness means including in what you're doing those whose traits differ from the dominant paradigm, not just sprinkling them on top. Inclusiveness allows for the possibility that those included have some say in the matter of where and when they're included, and how, and whether they'll want to reciprocate. It de-centers and de-privileges the unmarked state.
Thank you. I'll be here all week.
Climbing down off my hobbyhorse, now, and removing the rhetorical gear that helps me ride it, I'll mention a couple of surveys showing how inclusive SFFH publishing isn't. In 2016, Fireside Fiction published a special issue on the presence of black writers in the field. Strange Horizons conducted its own annual investigations of the numbers of the genre's women reviewers and reviewees from 2011 through 2015, modeled on those of non-genre magazine Vida.
What Fireside and Strange Horizon found was extraordinarily depressing: women and blacks were represented even more poorly in SFFH publications than in the sadly lacking mainstream venues Vida examined. And yet I have seen an improvement in that representation in my lifetime. And I hope to see more.
For many years I'd approach any visibly black person attending a convention where I found myself. "Hey, look!" I would say, rudely pointing. "Another one!" Then I'd introduce myself. Easy enough to be this forward when only a dozen of us attended any fannish gathering. But a few years back I went to a con with over a hundred People of Color present, among them a couple score of African descent. The face of fandom had quite literally changed.
The prime mover behind this change is Con or Bust, a nonprofit providing hassle-free grants to People of Color wishing to attend SFFH cons.
Originally Con or Bust operated under the umbrella of the Carl Brandon Society, a nonprofit I helped found in 1999. The CBS administers a scholarship fund in Octavia E. Butler's name and also gives out $1000 literary awards. Another band of social justice warriors, the James Tiptree, Jr. Literary Council, presents awards to SFFH that "explores and expands our understanding of gender" and two annual fellowships supporting gender-exploration-focused projects-in-progress.
So CBS members and the Tiptree "motherboard" and similarly-minded groups have hunkered down to make inclusiveness on myriad axes of difference the done thing. And the results are evident. And also, as predicted by polymath Samuel R. Delany in his groundbreaking essay "Racism and Science Fiction," with growing influence and increased economic rewards for the formerly marginalized have come savage attacks by those to whom the loss of unearned privilege equals oppression.
Lately, though, there's been an upwelling of still more inclusive-mindedness among SFFH's gatekeepers: publishers, editors, award juries, agents, critics, and so on. Because the box office success of Black Panther proves, stunningly and conclusively, that there is an audience for stories of the vast majority of us, those who don't fit the dominant paradigm. A paying audience. A big one.
Usually I link to relevant titles when I write these Futuristic Alternate Past raves. Not this time. There's enough material out there that I'm going to encourage you to refer instead to others' lists: winners and honorees of the Tiptree; nominees for and recipients of the CBS Parallax and Kindred Awards; entries at SF Mistressworks; my own Crash Course in the History of Black SF. I know there are others. I know you'll find them.
Recent books recently read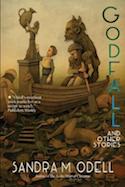 Godfall and Other Stories (Hydra House) collects most of the often-online work of prolific new author Sandra Odell into one print volume. Odell is a flash fiction adept, and Godfall's shortest stories glitter with the brightness of well-polished lenses, offering sharply focused glimpses of her imagined worlds' scary beauties. Longer pieces, like the title novella, carry their heftier weight with seeming effortlessness: butchering divine carcasses, rescuing kids from nuke-rigged chains, sipping immortality from their family's empty wineskins, these characters lift Odell's improbable situations from the page, from mere words to life. Along with the stories she shares notes on their genesis. Both Odell and editor Cat Rambo mention the author's clueless use of a racial slur in an earlier draft of "Black Widow," for which she was ostracized by appalled critique-mates. She's learned an immense amount about representation from that experience, as these meticulously aware stories show.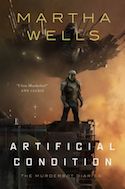 Second of The Murderbot Diaries, Martha Wells's Artificial Condition (Tor) does a bang-up job of filling in newcomers to the series. The books are a happy blend of crime procedural and far-future hard science fiction. Murderbot, a self-aware security robot investigating its own apparent massacre of innocent civilians, narrates its adventures in an easygoing, casual tone that's also logically rigorous. Aided by a bored sentient research ship, it infiltrates the onsite records of the mothballed mining operation where it supposedly went berserk. Further explorations are scheduled for the Diaries' last two books, to be released later this year to clamoring fans — among them Kate Elliott, Ann Leckie, and me.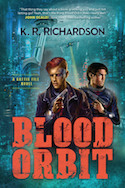 K.R. Richardson is actually local fantasy author Kat Richardson. The new byline appears on the cover of Blood Orbit (Pyr), her vision of the intersection between noir and the black depths of space. On a corporate-owned planet, a rookie cop and a world-weary detective with experimental cybernetic implants team up to solve the mystery behind an apparently pointless mass homicide. There are racial clashes and routine shows of class hostility, but what really got under my skin was the practical nastinesses of Inspector Dillal's machine grafts. No Neuromancer-esque ease, no automatic jacking-in for Dillal. Postsurgical pain clenches his jaw, the threat of infection pits him against a doctor more concerned with lost time and equipment than his health, and colleagues wince and retch at his disturbingly chimeric appearance. A truly tragic mulatto, and an appropriate hero for this affecting cross-genre tale.
Couple of upcoming cons
ConCarolina came that close to highlighting an unrepentant sexist and homophobe as their Guest of Honor. Wisely, they've replaced him with the redoubtable Seanan McGuire, representative of a few non-dominant paradigm traits her own self, and also the author of a zombie novel that made me cry. Go bask in her wit, talent, beauty, and graciousness, forgetting the mistake that was not made.
The Locus Awards Weekend takes place again in Seattle this year. As I wrote in my May 2017 column, a light program of readings and panels supplements Saturday's big deal awards banquet. New for 2018: three free memberships to People of Color! Do you qualify? Apply via the link at the top of this paragraph and you may witness firsthand that magical moment when emcee Connie Willis bestows a plastic banana upon the wearer of the ugliest and least authentic Hawaiian shirt.