Every week we ask an interesting figure what they're digging into. Have ideas who we should reach out to? Let it fly: info@seattlereviewofbooks.com. Want to read more? Check out the archives.
Nicola Griffith is the author of seven novels. Her most recent, So Lucky, is being released this Tuesday, May 15th. She'll be making two appearances — the 15th at Phinney Books, and the following night, May 16th, at the Elliott Bay Book Company. Appearances by Griffith are rare, even in her home town, so get out and take advantage! But if you miss her (or, make it but want more of her voice in your life), be sure to check out So Lucky on audiobook — her debut as a narrator. Maybe she'll narrate the next Hild book, Menewood, when that is released, as well...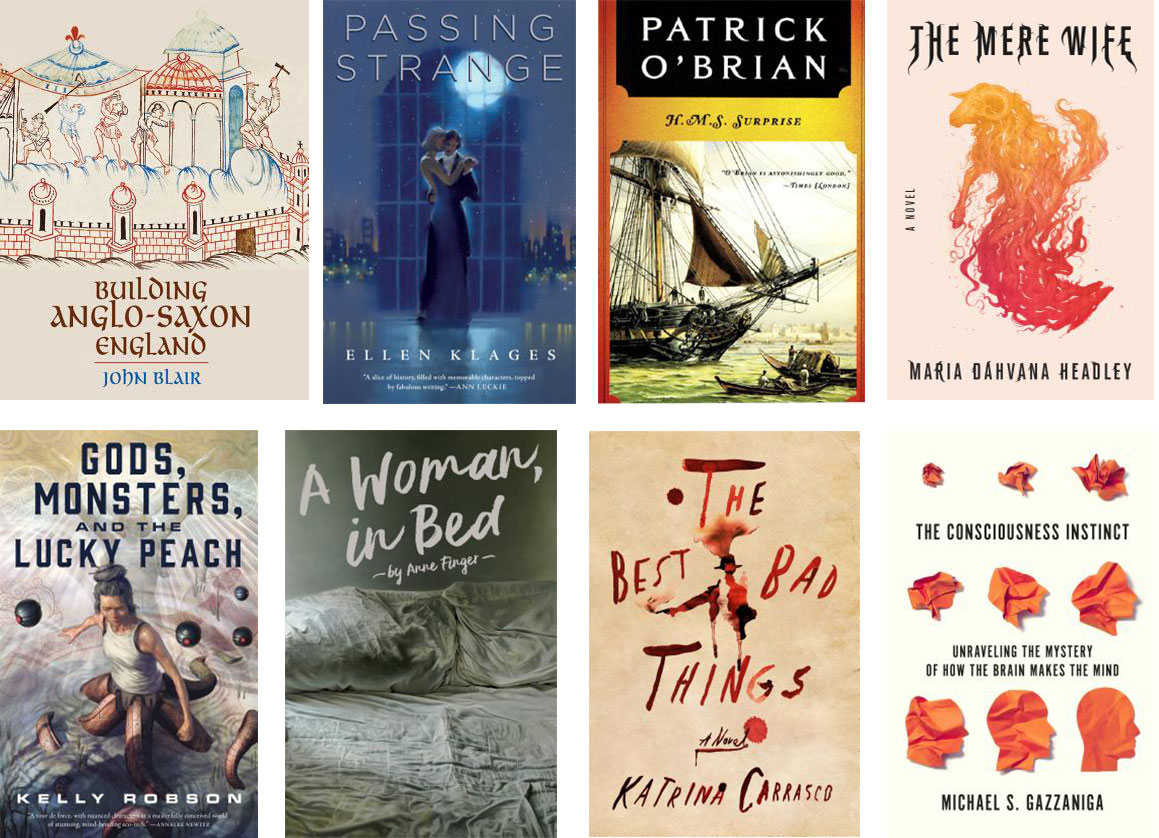 What are you reading now?
I always have several things on the go, for different times, moods, and contexts.
The book I really want to be reading all the time right now is nonfiction: Building Anglo-Saxon England, by John Blair. But I'm not reading it at all, just glancing at it longingly and waiting for a book stand to arrive: it weighs about 5 lbs. I wish I were exaggerating, but I'm not. It's a massive, heavily illustrated offering from Princeton University Press that brings together the latest understanding of the Anglo-Saxon built environment and its inhabitants. But, oh, if you like the details in Hild about how the A-S world worked — and big hands and biceps of steel, or, y'know, a bookstand — you'll eat this with a spoon.
To read on my phone or for ten minutes with a cup of tea, I have Passing Strange, a novella by Ellen Klages set in in 1940s San Francisco, full of magic, pulp fiction cover paintings, and lesbians in love. Currently shortlisted for the Nebula Award.
To read aloud to Kelley at night, I have Patrick O'Brian's HMS Surprise, third in the Aubrey/Maturin series. These are magnificent books: Jane Austen on a ship of war, with the humanity, joy and pathos of Shakespeare — not only brilliantly written but absolutely fabulous to perform.
What did you read last?
Coming in July The Mere Wife, Maria Dahvana Headley's astonishing reinterpretation of Beowulf. This is Beowulf in suburbia—epic, operatic, and razor sharp. It uses Beowulf's three-part structure and a fascinating take on Old English traditions of animism to create a story not of a thick-thewed thegn but of women; women at war, literally and figuratively. It is Maria Dahvana Headley's women who are the givers of grief, the dealers of doom.
Gods, Monsters, and the Lucky Peach, Kelly Robson. This is another novella, time-travel ecofiction in which physically modified humans from a post-ecocatastrophe future go back to Ur to sample the flora and fauna. Things do not go as planned, and Robson doesn't flinch from dramatic choices.
What are you reading next?
A Woman, In Bed, Anne Finger. I met Anne last month and loved the bit she read aloud. Excitingly, it's published soon after my novel, So Lucky, which means for the first time (to my knowledge) two #CripLit novels that pass the Fries Test are out within a month of each other. I am thrilled!
The Best Bad Things, Katrina Carrasco
I read 5 pages a couple of months ago and it's very promising: a supremely visceral novel set in the late nineteenth-century Pacific NW in which a woman disguises herself as both a man and woman to investigate opium smuggling. Seattle resident Carrasco is not afraid to take risks. Now that I have an ARC, I look forward to the rest. Out in November.
The Consciousness Instinct, Michael S. Gazzaniga
I'm dying to see how Gazzaninga tackles the question of consciousness and the relationship between brain and mind. Is consciousness an instinct? I hope to find out.