Monday, May 14: An Evening of Mahmoud Darwish Poetry
Prominent members of Seattle's Palestinian community, including poet Lena Khalaf Tuffaha and architect Rania Qawasma, celebrate the poetry of Mahmoud Darwish in a bilingual reading. Local poets Elizabeth Austen, Rick Barot, Jourdan Keith, Claudia Castro Luna, JM Miller, and Susan Rich, will also read work.
Elliott Bay Book Company, 1521 10th Ave, 624-6600, http://elliottbaybook.com, 7 pm, free.
Tuesday, May 15: So Lucky Reading
Nicola Griffith is one of Seattle's leading writers, by which I mean where Griffith leads, others follow. Tonight, she launches her latest book, a novel titled
So Lucky
. It's about a recently widowed woman who discovers that she has multiple sclerosis. You'll be hearing a lot more about this book here over the course of the week. (Griffith is also reading at Elliott Bay Book Company on Wednesday night.)
Phinney Books, 7405 Greenwood Ave. N, 297-2665, http://phinneybooks.com, 7 pm, free.
Wednesday, May 16: WordsWest
The West Seattle literary series, which recently helped to save independent coffee shop C&P Coffee Company from closing down, continues with the theme "Home Unsettled Home." The headline readers are Rachel Kessler and Matthew Zapruder, so this is going to be a lot of fun.
C & P Coffee Co., 5612 California Ave SW, 7 pm, http://WordsWestLiterary.com/, free.
Thursday, May 17: Seattle Reads Homegoing
See our Literary Event of the Week column for more details.
Seattle Public Library, 1000 4th Ave., 386-4636, http://spl.org, 7 pm, free.
Friday, May 18: Jack Straw Writers Program
Every year, Jack Straw recruits a squad of emerging Seattle writers and teaches them how to be more confident when reading, recording, and producing their work in other media. These readings are a great way to see what the writers have learned. Tonight's readers include Jalayna Carter, Sarah María Medina, Daniel Atkinson, and Rachel Trignano.
Jack Straw Gallery, 4261 Roosevelt Way N.E., 634-0919, http://jackstraw.org, 7 pm, $5.
Saturday, May 19: Seattle's Book Fair
Presented by Seattle's Reading Divas, this celebration of local authors including Tela Allen, Alecia Coody, Leslie Cronkhite, Latoya Ralliford, Royal Prince, and many more features food, signings, games, music and a bunch of books you can buy.
New Holly Hall, 7054 32nd Ave S, 12pm - 6 pm, free.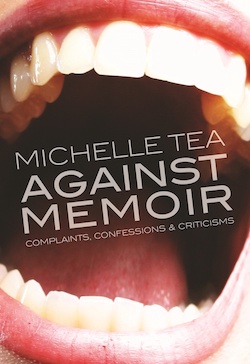 Sunday, May 20: Against Memoir Reading
Michelle Tea is a goddamned titan. Her latest non-fiction book, an essay collection titled
Against Memoir
, is subtitled
Complaints, Confessions & Criticisms
, and it covers topics as wide-ranging as lesbian biker gangs and ice cream shops.
Elliott Bay Book Company, 1521 10th Ave, 624-6600, http://elliottbaybook.com, 3 pm, free.