Although he first made his name as one of Seattle's two best-known Jeopardy! champions, Ken Jennings has built an interesting post-game-show career. He's parlayed a record as the winningest Jeopardy! contestant into literary celebrity.
In addition to a line of trivia books for kids, Jennings is the author of a funny memoir about his time as a Jeopardy! champ, Brainiac. Jennings's charming Maphead: Charting the Wide, Weird World of Geography Wonks proved that he wasn't just a one-hit wonder — that there is, in fact, life after Trebek.
It's hard to talk about Jennings in a literary context without mentioning that he is very, very good at Twitter. Jennings is, in fact, a hilarious writer who perfected the idea of a zinger that could comfortably fit inside a 140- (and then 280-) character limit. You can't help but picture him in another life writing zingers for the nightly monologue of someone like Johnny Carson.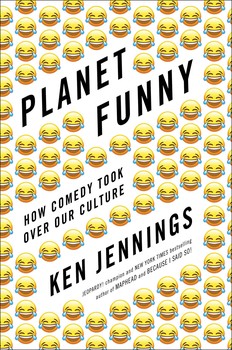 With his newest book, Jennings is combining his literary career with his Twitter skills. Subtitled How Comedy Took Over Our Culture, Planet Funny is a history of comedy — going all the way back to Sumeria — and a reckoning for a time in which every asshole with a Twitter handle thinks they're the host of their own goddamned Daily Show.
Jennings has been talking about the book that would become Planet Funny for years now — it's been so long since I first heard about it at a party that I thought maybe he'd given up on the thing — but the delay came for the best reason imaginable: he's been deep in research. Planet Funny is a deeply considered study of where comedy began, and where it's going.
Tonight, Jennings celebrates Planet Funny's release with a reading before a hometown crowd at Elliott Bay Book Company. These are the kind of parties that make literary life in Seattle so much fun. Go be a part of it.