This morning, the Hollywood Reporter broke the news that former Seattle resident Tom Peyer is the editor-in-chief of a new comic book publisher called AHOY Comics. Peyer is a gifted comics writer who edited for Vertigo Comics in the line's heyday — he edited Grant Morrison's brilliant Doom Patrol run and was the assistant editor on Neil Gaiman's Sandman series. With publisher Hart Seely's guidance, the Syracuse-based AHOY will begin publishing comics this September.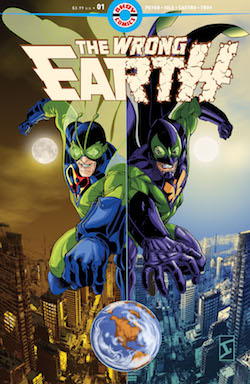 I'm writing about this news because I have a personal connection to the company that I'm excited to share with Seattle Review of Books readers. Specifically, I'm writing comics for AHOY, and starting this September, in the first issue of The Wrong Earth, my work will be appearing in their comics. That issue will be a huge deal, featuring a killer lead story from Peyer, Jamal Igle, and a text piece from Grant Morrison.
Ever since I was a kid learning how to read with Charlie Brown collections and Superman comics, I always wanted to make comics. Once I realized that I had about as much artistic talent as a Roomba, I turned my attention to comics writing. I spent much of my early 20s publishing minicomics with friends — don't read them, please, they're horrible — and then the comics opportunities faded to the background as my attention became focused on journalism and criticism. The opportunity to write for AHOY, happily, has rekindled that old enthusiasm.
Working with Tom and Hart and Stuart Moore and the rest of the AHOY team has been a blast, and I'd forgotten how much fun it is to see an artist's interpretation of my script. I'm working with some fantastic cartoonists, and I can't wait for you to see their work. I've got a lot of backup stories in that first wave of AHOY Comics, and some special projects lined up in the months ahead.
Some housekeeping for what this means for the site you're reading right now: I intend to uphold the same high conflict-of-interest standards that we've always maintained here at the Seattle Review of Books. If there's a conflict of interest with AHOY Comics in any news story on this site, we will report it clearly and quickly in the article.
Obviously, I will not review any books published by AHOY Comics, or books from any publisher who pays for my work. I also won't review books by people I've collaborated with on comics work. I don't believe in impartiality — I've never claimed to write objective book reviews — but taking a paycheck from a publisher, and collaborating creatively with an artist, automatically puts a thumb on the scale. It's easier and simpler for myself and for my readers to recuse myself from any reviews with that kind of connection.
I will be tweeting about my comics work on my personal Twitter feed, but I will avoid deluging the site with announcements about my projects. Please reach out to us if you have any issues with SRoB's coverage of my comics.
And this comics writing gig won't affect my publishing schedule here on the Seattle Review of Books (or in my day job at Civic Ventures.) I can state this with confidence because I've been writing for AHOY for the better part of a year now, and it hasn't affected my workload elsewhere. You'll still see me here and on my day-job site on the same regular schedule that I've always upheld.
In any case, I'm excited to finally share this news with the world, and I can't wait for you to read my comics. Working with AHOY has been one of the most fun and rewarding experiences of my professional life, and I hope to keep working with them for as long as they'll have me.
I think the experience of writing comics has changed and will continue to change my approach to criticism on this site, and I'm excited to explore those different ways of looking at and responding to art with you. Thanks, as always, for reading the Seattle Review of Books and for joining us in our ongoing conversation with the literary arts.