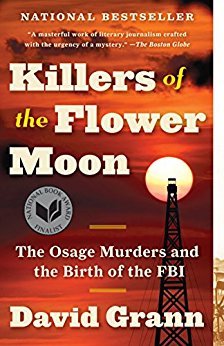 This Thursday, July 5th at 7 pm, the Reading Through It Book Club will be gathering at Third Place Books in Seward Park to discuss David Grann's Killers of the Flower Moon, a true story about the 1920s incident that basically created the modern FBI.
If you're looking for a book to read over the 4th of July, this is the closest thing to a summer read that our book club has done yet — a true crime story about greed, murder, the relationship between indigenous peoples and white American settlers, and the end of the Wild West.
If you've already read the book, I hope you'll show up for the discussion. It should be fascinating. In a time when the president of the United States is actively undermining the FBI, we need more than ever to understand what the agency has been, what it was founded to do, and where we are today.