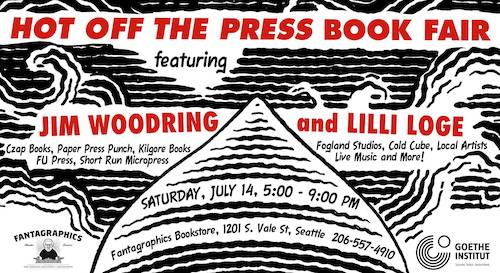 For four years now, Fantagraphics has celebrated summer with a fantastic little laid-back book festival called the Hot Off the Press Book Fair. It's pretty simple: exhibitors set up tables and sell comics in and around the Fantagraphics Bookstore and Gallery. Creators sign books. Comics nerds share the gossip and blab about freelance rates. And then the Georgetown Art Attack happens all around the fair, giving attendees the opportunity to see even more fun stuff.
This year's Hot Off the Press guest of honor is Jim Woodring, who is the best cartoonist in all of Seattle. Woodring is unveiling his brand-new comic Poochytown, which continues the story of his bizarre little cartoon character Frank and his adventures in the Unifactor, a prickly cartoon universe with its own rules and physics.
Woodring is sharing the stage with German cartoonist Lilli Loge, who has created a special Tijuana Bible for the occasion. (If you don't know, Tijuana Bibles were sex comics starring bootleg versions of popular cartoon characters like Mickey Mouse, Popeye, and Dagwood Bumstead.) Loge and Woodring will team up to create a site-specific art installation during the show.
Other Seattle cartoonists including Simon Hanselmann, DW, Marc Palm, Tom Van Deusen, Max Clotfelter, Sarah Romano Diehl, Kelly Froh, Laura Knetzger, and more will be in attendance, selling their latest books. Local publishers like Cold Cube and Paper Press Punch will be tabling at the show, too.
Unlike most shows, which generate a kind of claustrophobic feel, Hot Off the Press feels more like a stoop party. If you get sick of browsing the booths inside, you can step outside and check out the comics on the sidewalk. Fantagraphics supplies the food and drink, Georgetown provides the ambiance, and our best cartoonists offer up the entertainment. Seems like a perfect summer evening to me.
Fantagraphics Bookstore & Gallery, 925 E. Pike St., 658-0110, http://fantagraphics.com/flog/bookstore, 5 pm, free.