Monday, July 9: What the Eyes Don't See Reading
Dr. Mona Hanna-Attisha is a pediatrician who helped to blow the whistle on Flint's water crisis (which is, I would like to remind you, still ongoing.) Her memoir about that experience is titled
What the Eyes Don't See: A Story of Crisis, Resistance, and Hope in an American City
.
Langston Hughes Performing Arts Institute, 104 17th Ave S. https://www.langstonseattle.org/, 7 pm, free.
Tuesday, July 10: Karen Lord
Clarion West brings a Barbadian author from the Caribbean to Seattle as part of their fantastic summer reading series. She'll discuss sci-fi and teaching sci-fi.
Seattle Public Library, 1000 4th Ave., 386-4636, http://spl.org, 7 pm, free.
Wednesday, July 11: Spoonbenders Reading
Daryl Gregory's novel
Spoonbenders
is a novel about a family of psychics. It's already been signed for a big adaptation to television and it was a big old bestseller on its release. Now it's out in paperback, and Gregory just moved to Seattle. Come on out and meet one of Seattle's most popular authors.
Elliott Bay Book Company, 1521 10th Ave, 624-6600, http://elliottbaybook.com, 7 pm, free.
Thursday, July 12: Forms of the Book
This one looks like a doozy. Three of Seattle's smartest, most inventive writers — Amaranth Borsuk, Doug Nufer, and Shin Yu Pai — get together to discuss the past present and future of the book.
Ada's Technical Books, 425 15th Ave, 322-1058, http://seattletechnicalbooks.com, 7 pm, free.
Friday, July 13: The Rat Tree Reading
The Seattle novelist Susan M. Carr reads from her latest book, about family reunion at a pool party. In the middle of the party, two young family members accidentally uncover their grandfather's big trunk full of Nazi memorabilia. Things unravel from there.
University Book Store, 4326 University Way N.E., 634-3400, http://www2.bookstore.washington.edu/, 7 pm, free.
Saturday, July 14: Hot Off the Press Book Fair
See our Event of the Week column for more details.
Fantagraphics Bookstore & Gallery, 925 E. Pike St., 658-0110, http://fantagraphics.com/flog/bookstore, 5 pm, free.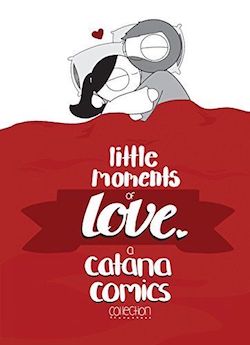 Sunday, July 15: Little Moments of Love Reading
I love Catana Chetwynd's comics. Her characters look like fetuses — half-formed round heads with huge eyes and stubby little hands — but she uses them to capture moments in a relationship: differences in height, weird food hangups, drunken shenanigans. They're fantastic little windows into a very private part of life, usually shared between two people.
University Book Store, 4326 University Way N.E., 634-3400, http://www2.bookstore.washington.edu/, 3 pm, free.