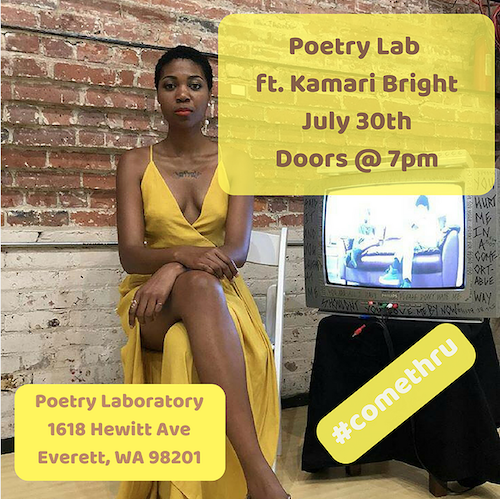 "I would say my entryway into poetry was probably through music," our July Poet in Residence, Kamari Bright, tells me over the phone. "I loved R&B and Motown and a kid. From there, getting to see the artistry in lyricism, I remember starting to write songs and then poetry." That love of music certainly shows in Bright's performance. When she reads a poem aloud, Bright brings a certain rhythm and stage presence to the material that recalls a musical performance.
That onstage confidence seems to be a natural talent: aside from some experience performing in choir at Fisk University in Nashville, Bright doesn't have a theatrical background.
"I don't remember how I first started" performing poetry, Bright says, but "I do remember there was a big shift in the extent to which I first started to share. I had a few family members pass within a short time. It hit me hard, and I started to think about my legacy and the traits that I wanted to leave behind." When reminders of your mortality get "right in your face," she says, "that reminder that you don't know how much time you have here," stage fright tends to disappear.
Bright is a multidisciplinary artist — her website documents music, theater, film, and visual art projects — but she thinks of herself as a poet first. "I think poetry has a certain simplicity and an accessibility to it," she says. "With other art forms, there are different barriers. You have to get supplies, and you need money." But with poetry, you need "pen and paper, maybe a phone. And if I want to share, I can just put it out on the net. It's really accessible."
As you can tell from the poems she's published on our site this month, Bright is using poetry to examine her religious upbringing. "I think a big part of writing is to help me process things and reflect or make sense of something. Writing those poems came as I was trying go understand my deviation from Christianity," she says.
"I was raised very Baptist on both my mom's side and my dad's side. I didn't start to question it until college. I started to research some things about Christianity and the Bible and other religions, and I realized I don't believe all this in the way it's been taught to me and so I can't truthfully call myself a Christian anymore."
Her poems examine "the process of interpreting all the parts of the Bible that have been detrimental to myself and other people. It's not about attacking the belief or the spirituality itself," she clarifies, but rather studying "what part of it has been influenced by man," and how subjective religious interpretation can be.
Bright doesn't hesitate to name poets who've been an influence on her: "I love Anastacia-Renee, and probably one of my favorite poets is Nikki Giovanni. I like the authenticity of their voices."
Where does Bright see herself in relation to the Seattle poetry scene? "I'm probably still trying to find my place," she admits. "There's a lot of stuff I'm still learning about poetry in general, but I do think once you're in it, it's easy to keep moving further on." The literary community in Seattle "doesn't feel impenetrable."
Ask Bright what she wants out of her career, and she's clear about her aspirations. "I know this is kind of a taboo thing in poetry, but I want to be able to live off of this craft. I want to not have to supplement poetry with a nine-to-five day job. I want to publish another book and get the chance to travel." Her goal, she says, is to "take this wherever people want to hear it."