Every month, Daneet Steffens uncovers the latest goings on in mystery, suspense, and crime fiction. See previous columns on the Criminal Fiction archive page
Reading around: new titles on the crime fiction scene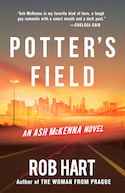 Rob Hart has stated that Potter's Field (Polis) will be the final adventure of his heftily emotionally-baggaged freelance investigator Ash McKenna, so reading it was a bittersweet sensation: I meant to take my time and savor it slowly; instead, riveted, I bulleted through the novel in one sitting. Back on his home turf of Staten Island, Ash has every intention of heading on the straight and narrow. His short-and-to-the-point to-do, for example, list includes finding a place to live and getting a job, ideally as an apprentice to a real PI so that he can build his career properly this time around. Unsurprisingly – this guy is a magnet for misadventure – he lands neck-deep in an all-out drug war, not to mention tangling with old high-school frenemies. The music of Bronx River Parkway, the Die Hard movies, Casablanca, and pizza, lots of delicious New York pizza, lend Potter's Field its McKennaesque feel, as does peripatetic Ash's take-home realization: "Doesn't matter where you live. It only matters how."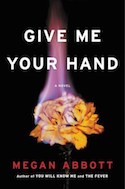 A teen friendship wrought over cross-country competitiveness and a love of science is both riven and cemented with a deep, dark secret in Megan Abbott's Give Me Your Hand (Little, Brown). Kit Owens and Diane Fleming bond over high-school bunsen burners and deep-seated ambitions, but it's as equally ambitious adults that the initial seeds of their relationship find full fruition in the cut-throat setting of a research laboratory. Abbott's trademark elements of darkness in her complex protagonists shine here, with both Kit and Diane the most compelling of characters in equal measure.
Megan Abbott will be at the Lake Forest Third Street Books on July 30.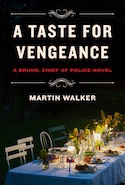 When a missing woman turns up dead in a bathroom and another body is found nearby, Bruno, chief of police in the delightfully food-and-wine-infused village of St. Denis, finds himself juggling a murder mystery and a local relationship mystery in Martin Walker's A Taste for Vengeance (Knopf). As the murder evolves into a compelling tale of international intrigue, Walker also regales us with several cooking lessons and a tasty glimpse into an area of the world that's reassuringly full of life, truffles, eggs, cheese, fresh vegetables, and plenty of fermented grape juice.
A cool and engaging spy thriller, Safe Houses by Dan Fesperman (Knopf), plays a long game, veering between recent-day America and 1979 Europe. Helen Abell, an operative in the CIA's Berlin office is in charge of its local safe houses and takes her job very seriously. Studious, organized, and scrupulous in her check-ups, she's startled one day by overhearing a meeting she had no involvement in planning. Then, when an unpleasant fellow spy makes extra trouble for the bureau, Helen has a conundrum on her hands. Years later, Helen's daughter has her own adventure, uncovering the mystery of her mother's secret life. Excellent page-turner, with incredible integrity at its heart.
The Quintessential Interview: Mick Herron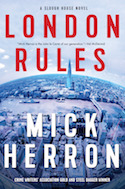 Another set of happily-rogue spooks infiltrate every inch of Mick Herron's London Rules, number five in his terrific Slough House series, which kicks off with a breathtaking authorial set-piece, and only picks up pace from there. Central London's Slough House may be where re-assigned (read: sent to the doghouse) MI5 agents cool their heels but, in this nest-of-spies particular case, these individual geniuses are never inactive for long. As clever and beautifully-plotted as a masterful John le Carré, and shot through with smart, canny humor.
What or who are your top five writing inspirations?
Need, curiosity, excitement, guilt, habit.
Top five places to write?
One: My dining room table (north-facing chair).
Two: My dining room table (south-facing chair).
Three: No third place awarded.
Four: No fourth place awarded.
Five: No fifth place awarded.
Top five favorite authors?
Can't do a top five. Could maybe do a top hundred, when time allows.
Top five tunes to write to?
Keith Jarrett, Sun Bear Concerts: Osaka, Part I
Arvo Pärt, Spiegel im Spiegel
Bobo Stenson Trio, Don's Kora Song
Keith Jarrett, A Multitude of Angels: Torino, Part II
Arild Andersen, Dreamhorse
Top five hometown spots?
One: Summertown library.
Two: Blackwell's Bookshop (poetry section).
Three: The canal, as it runs through Jericho, north Oxford.
Four: The field near my home where deer graze in the evening.
Five: My dining room table (see above).