Every week we ask an interesting figure what they're digging into. Have ideas who we should reach out to? Let it fly: info@seattlereviewofbooks.com. Want to read more? Check out the archives.
Jessica Mooney is a Seattle-based writer. Her criticism, essays, and short stories have appeared in Vol. 1 Brooklyn, The Rumpus, Salon, City Arts Magazine, and of course here, where she reviewed, Kristen Radtke's Imagine Wanting Only This, and Leni Zumas' Red Clocks. Jessica's story "Love Canal" was one of the first pieces of fiction we published. That's not even talking about her non-literary career, in the field of global health for an international nonprofit; her scientific research has been published in Prevention Science and the Journal for Health Disparities Research and Practice. She's received grants from the Seattle Office of Arts and Culture and 4 Culture, and was a previous Made at Hugo House fellow.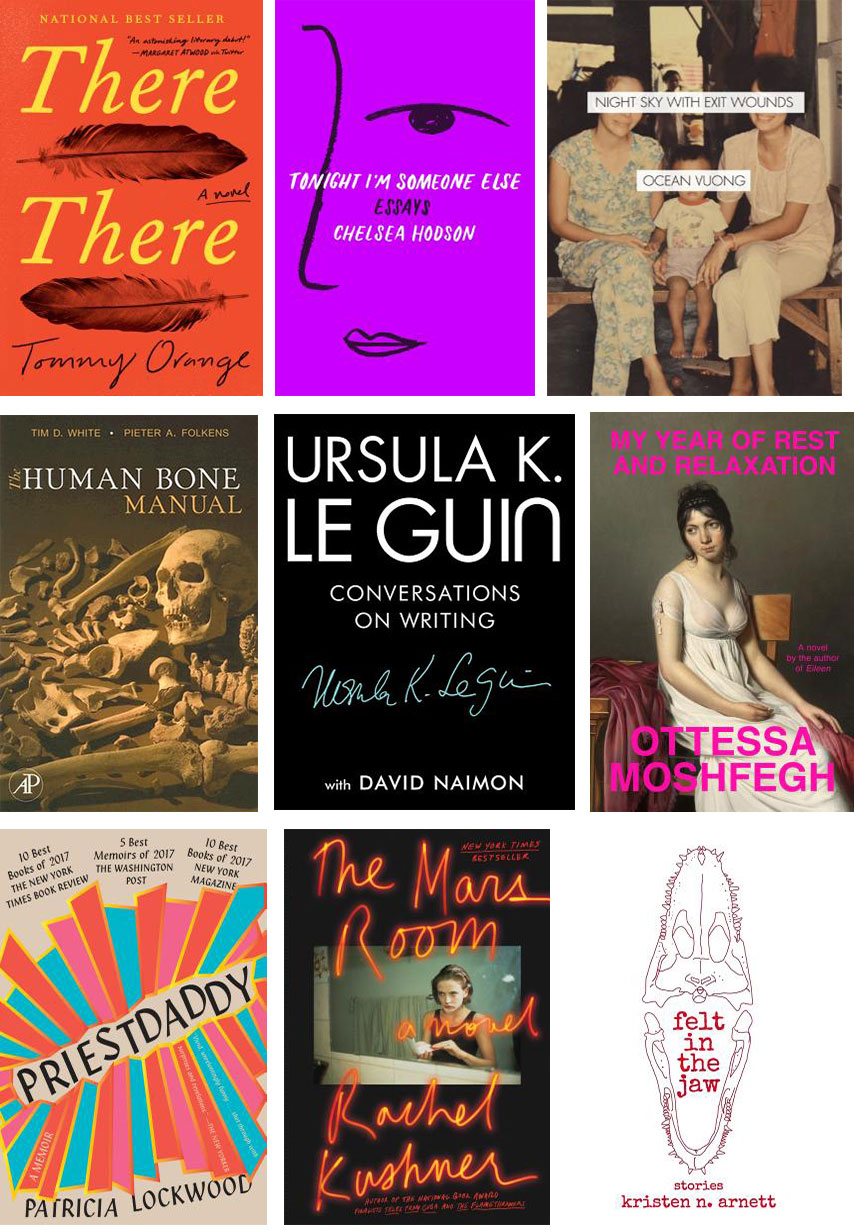 What are you reading now?
I always have a few books going in rotation. Right now it's There There by Tommy Orange, who is not only an incredibly gifted writer, but a kind human being; Tonight I'm Someone Else by Chelsea Hodson; and I finally picked up Ocean Vuong's Night Sky with Exit Wounds. I'm also reading the Human Bone Manual as research for a novel (great summertime creepy read!), and a few Oliver Sacks essays, which I've done every August the past fseveral years to commemorate his death — "My Periodic Table" just crushes me every time I read it.
What did you read last?
After hearing David Naimon interview Urusla K. Le Guin on on his (very excellent) podcast "Between the Covers", I picked up Conversations on Writing from Tin House Books. I also just finished reading Ottessa Moshfegh's My Year of Rest and Relaxation and Patricia Lockwood's Priestdaddy, both of which I highly recommend for their brilliant off-kilter prose and straight-for-the-jugular humor.
What are you reading next?
Looking forward to Rachel Kushner's Mars Room, Hanif Abdurraqib's They Can't Kill Us Until They Kill Us, and I just ordered Kristen Arnett's Felt in the Jaw, which I can't wait to read with a bottle of BOGO wine, purchased from 7-Eleven, of course, as the good author intended.