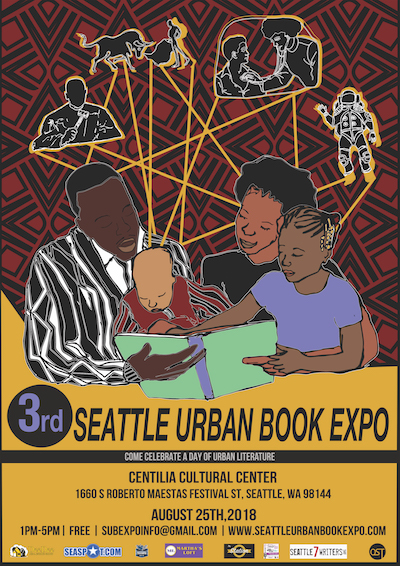 Last year, I interviewed Seattle author J.L. Cheatham about the second edition of the Seattle Urban Expo — his celebration of Seattle-area authors of color and independent authors who often don't get attention in local bookstores.
This Saturday, August 25th, the third annual Seattle Urban Book Expo happens on Beacon Hill. Cheatham plans the expo to be a big party, with food and kids' activities and all sorts of fun events that are intended to keep audiences there for a while. The second expo nearly doubled in size from the first, and the third looks to be the biggest, best one yet.
Don't know what to expect? Donna Miscolta reviewed the Seattle Urban Expo for us. She said only one thing was missing:
I was at the expo for an hour and a half. I think I counted two white people among the visitors during that time...Literary events too often center white writers. It happens in Seattle as it does elsewhere. Take for instance, the San Diego Festival of Books which also occurred last Saturday. Read Aaryn Belfer's #bookfestivalsowhite. When a literary event centers writers of color, it's an opportunity for white writers and readers to educate themselves about the lives and stories of black and brown people — an imperative in today's racially charged climate.
If you're reading this and you're white, you should go and support an underserved community and learn about a whole group of writers who you don't see at literary events every week in Seattle. If you're a person of color, you should go and celebrate a more inclusive literary Seattle. No matter who you are, you should go.
Centilia Cultural Center, 1660 S Roberto Maestas Festival St,973-4298, 1 pm, free.