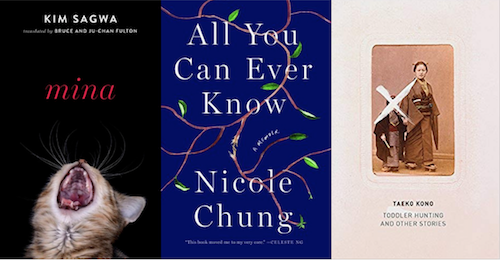 Caitlin Luce Baker is one of Seattle's very best booksellers and one of the most avid readers in the city. She works as a backlist buyer at University Book Store, which she helpfully explains to me over the phone means she's in charge of making sure the bookstore carries "the books that came out last week, and the books that came out fifty years ago." Caitlin frequently represents the city at national programs — she's currently a judge of the 2018 Best Translated Books Awards — and she always reads months into the future.
"I probably read 12 to 15 books a month on average," Caitlin says, and she tracks every book she reads by noting them on three-by-five inch index cards. All those books you're dying to read this fall? Caitlin probably read most of them months ago. (She's an excellent Twitter follow as well.)
So what fall titles are Caitlin most excited for you to read? The first book she recommends is a short story collection by Nana Kwame Adjei-Brenyah called Friday Black, which Caitlin says "blew me away. He's a dramatic new voice," she says, and "there's not a weak story in the bunch."
Caitlin calls another upcoming collection, Toddler Hunting and Other Stories, by Taeko Kono, "unsettling and obsessive." The title story, she says, "is about a woman who loathes little girls, but is always buying expensive clothing for little boys of acquaintances." Kono is interested in crossing boundaries and violating taboos, and Caitlin warns that "each story in this collection is dynamite."
"Absolutely one of my favorites" of the upcoming fall titles, Caitlin says, is a novel titled Samuel Johnson's Eternal Return, by Martin Riker. It's "the story of a father's love for his son" that "traces the history of television in America." At the beginning of the book, everyone watches the same three or four channels, but by the end those choices have fragmented into "a zillion channels," which results in a kind of loss of community.
Another novel that was just published yesterday, The Golden State by Lydia Kiesling, looks at another angle of parenting. "It's a road trip novel, but it's different — it's a road trip with a 16-month old baby," Caitlin says. The book is about a woman whose husband is Turkish, but "due to US policy and visa issues, he's back in Turkey." Life as a single mother becomes overwhelming, and "she takes off in her Buick to a small town in California," where "she meets a woman who lived in Turkey when she was younger." Caitlin especially admires this book for its timely investigation of "questions of American immigration."
Caitlin calls Mina, a novel out on October 10th by Kim Sagwa and translated from the Korean by Bruce and Ju-Chan Fulton, "one of the rawest and most honest depictions of what it's like to be a teenager" that she's ever read. "This book takes it to extremes," she says. "There's a screaming kitten on the cover. I don't want anyone to pick up this book because it has a cute cat on the cover — that cat is screaming for a reason," Caitlin warns. "This book kind of blew me away."
The fall brings with it some vivid first-person accounts that will open readers up to new perspectives. One of the titles that most appeals personally to Caitlin is Shaun Bythell's Diary of a Bookseller. "It is hysterical," Caitlin says. "Anything that anyone ever wanted to know about what a bookseller really thinks is in here." It's about the owner of a bookshop (named The Bookshop) in Scotland and his relationships with customers.
As much as she loved Bythell's memoir, Caitlin says of Nicole Chung's All You Can Ever Know, "if you read one memoir this year, read this one." She says the language in the book, which is about Chung's experience as a Korean girl who was adopted by a white family in a lily-white Oregon town, is "beautiful." Chung took the solitude of growing up where "no one around her looked like her" and channeled it into an intense memoir that investigates race and identity.
After talking on the phone with Caitlin about upcoming releases for a half an hour, she sent me a followup email with upcoming poetry titles that she wants people to know about — The Carrying by Ada Limón and feeld by Jos Charles, both from Milkweed; and Perennial by Kelly Forsythe from Coffee House. Her exuberance for the titles is infectious. For the better part of a year now, she's been waiting for readers to be able to get their hands on these books, and finally the time has arrived. For a dedicated bookseller like Caitlin, fall book season is one of the very best times of the year.