Monday, September 10: The Mere Wife Reading
See our Event of the Week column for more details.
Seattle Public Library, 1000 4th Ave., 386-4636, http://spl.org, 7 pm, free.
Tuesday, September 11: Birds, Bees, and #MeToo
Seattle Review of Books
contributor Bonnie J. Rough, who recently published a new book titled
Beyond Birds & Bees: Bringing Home a New Message About Sex, Love, and Equality
, will lead a discussion about raising children in a time of massive gender inequality and the #MeToo movement. She'll be joined by Amy Lang and
Seattle Times
columnist Nicole Brodeur.
Phinney Center Community Hall, 6532 Phinney Ave N, 783-2244, http://www.phinneycenter.org, 7:30 pm, $5.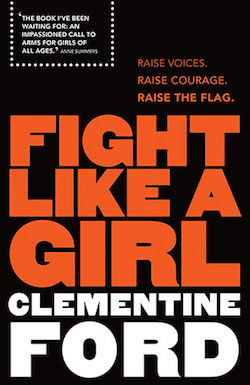 Wednesday September 12: Fight Like a Girl Reading
Seattle's own Shout Your Abortion co-founder Amelia Bonow joins Australian writer Clementine Ford for a discussion about feminism in 2018.
Fight Like a Girl
is a book that expands on Ford's popular TED Talk about rape culture, among other topics.
Elliott Bay Book Company, 1521 10th Ave, 624-6600, http://elliottbaybook.com, 7 pm, free.
Thursday, September 13: Not Even Bones Reading
The publisher describes Rebecca Schaeffer's young adult fantasy as "
Dexter
meets
This Savage Song
, which probably doesn't make the author feel nervous or annoyed at all. It's about a girl who sells body parts in a world where magic exists.
Third Place Books Lake Forest Park, 17171 Bothell Way NE, 366-3333, http://thirdplacebooks.com, 7 pm, free.
Friday, September 14: Seattle Music Machine Salon
Ada's Technical Books has an array of nerdy events for its customers. Tonight, the Seattle Music Machine Salon meets at the shop. The SMMS meetings feature "a presentation and a guided discussion on some aspect of making music with computers and electronics." It's intended for all skill levels, including amateurs.
Ada's Technical Books, 425 15th Ave, 322-1058, http://seattletechnicalbooks.com, 7 pm, $5.
Saturday, September 15: Three poets
Quenton Baker, who is the current Open Books Poet in Residence, joins former Seattle Youth Poet Laureate Lily Baumgart and Washington State Poet Laureate, Claudia Castro Luna for a chill Saturday night reading.
Open Books, 2414 N. 45th St, 633-0811, http://openpoetrybooks.com, 7 pm, free.
Sunday, September 16: The Lost Art of Reading Reading
Subtitled
Why Books Matter in a Distracted Time
, David Ulin's book is a call to celebrate the act of reading in a world that seems dead set against the act of paying attention to anything for more than two seconds. Ulin, who was the editor of the
Los Angeles Times
's book review section, is just the person to answer this question. I'll be joining him onstage to talk about the book and literary criticism and possibly the impossibility of focusing on books in a time when Donald Trump is president.
Elliott Bay Book Company, 1521 10th Ave, 624-6600, http://elliottbaybook.com, 3 pm, free.