Every month, Nisi Shawl presents us with news and updates from her perch overlooking the world of science-fiction, fantasy, and horror. You can also look through the archives of the column.
Or it didn't happen
One picture is famously worth a thousand words. Which is just about the number I get to use writing this column. But I'm going to talk about pictures instead of giving you one — lots of pictures, as present in SFFH today and previously. And maybe in the future? Who knows?
E. Nesbit's horror story "Man-Size in Marble" is the earliest example of visual arts in genre work that comes immediately to my mind. It's told by a painter, and the story's main focus is on two stone effigies that menace the narrator's wife. Dolls also inhabit this particular uncanny valley, those sorts of denizens too numerous to name. 3D representations of the human form are almost guaranteed to creep readers out, though sometimes, as in Keith Donohue's recent novel The Motion of Puppets they're victims rather than villains.
Nor are horror and fantasy the sole SFFH subgenres where art figures. The hero of the two Ilario books by Mary Gentle is an intersex painter who celebrates the technological advances of their craft as this alternate history progresses through a Renaissance in which Carthage remains a ruling power. Artist June Costa narrates Alaya Dawn Johnson's YA science fiction novel The Summer Prince, set in Brazil, about 400 years from now. With her doomed love Enki, Costa creates pieces that challenge the semi-Utopic status quo and further the underclasses' resistance to immortality-fueled political stagnation.
Another SFFH novel in which art and revolution intersect is The City, Not Long After, by Pat Murphy. In a dystopic near future, post-plague San Francisco has become an artists' colony, and its inhabitants find creative and magical ways to battle off an invasion of puritanical soldiers. Armistice, the second of Lara Elena Donnelly's fantasy novels set in an imaginary world, features a burgeoning movie industry in its 1930s-ish milieu. Filmmaking provides the perfect cover for a intelligence operations against the Nazi-like Ospies. Is it also art?
Certainly according to many, myself included. But Catherynne Valente's Radiance depicts an alternate universe in which cinema's status as an art form depends on its compliance to an ossified code of values. A serious movie must be silent, and it must eschew the vulgarity of color. In 1986. Despite this attitude's stodginess, the crew employed by Valente's protagonist Severin Unck gallivants about the solar system freely to record her daring and gorgeous documentaries.
Visual art in SFFH, judging from my examples, tends to concentrate either on art's ability to overturn authoritarian regimes, or on our emotional associations with its subjects, or on the technology behind its techniques. Then there's Cortez on Jupiter by Ernest Hogan, which does all three: a guerrilla muralist from LA is brought to Jupiter to commune with aliens via his wildly abstract art and exploits Jovian gravity via an expanded repertoire of painting techniques.
My least favorite inclusions of visual art in SFFH are those that use it as a metaphor for something else: for writing (far too frequently), or, God forbid, religion, as JRR Tolkien seems to have done in his 1939 short story "Leaf by Niggle." Let art be art, I say. Even, or maybe especially, art that's merely imagined.
Recent books recently read
South African author Imraan Coovadia's latest novel, A Spy in Time (California Coldblood), blends a film noir aesthetic with time travel in an Afrofuturist challenge to the paradoxes customarily dogging this well-worn SFFH trope. Enver Eleven, recent recruit to the time police of "the Agency," obsessively studies recordings of the past so he won't depart even slightly from known historical events. For his first mission he's sent to Marrakech in 1955, which is an admittedly problematic period for a black man such as himself. He's only supposed to observe, though, making this an ostensibly easy assignment--till his accompanying superior is disastrously killed. He then has to scramble back and forth between the 20th century, his home base in a post-apocalyptic 23rd, and an even more depressing far-future outpost on Jupiter. He also has a ringside seat for the Second End of the World, which he was charged with preventing. Phantasmagoric scenes of the descendants of black miners wrapping themselves in the skins of hunted whites and of AI-operated bulldozers breaking through the dome walls surrounding iridescent chronogates nicely illustrate Coovadia's twisty plot and ingenious resolution.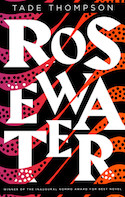 Rosewater (Orbit) by rising star Tade Thompson is also a mash-up of the noir/hardboiled detective genre with SFFH, and also arguably a work of Afrofuturism. Though born in London, Thompson is the child of Yoruba (West African) immigrants, and 99.9% of the novel's action takes place in Nigeria. The trope he tackles, though, is an alien invasion. Which as I write this is apparently already in progress. Thompson's genius in displacing his tale of successive xenobiological attacks from the West onto the developing world is matched by his breathtakingly smart prose. Always crisply conveying both vivid sensations and ineluctable meaning, Thompson describes extra-dimensional sexual encounters, the technical requirements of invisibility, the brutality of telepathic interrogations and more in this deeply engrossing book. Rosewater undeniably deserves its Nommo Award for best novel, and its forthcoming sequels may win the author a second Nommo — as well as earning him many other awards. And rightfully so.
Couple of upcoming cons
Seattle's GeekGirlCon celebrates non-dudebro SFFH in all its glory. Citing Marie Curie and Ada Lovelace as foremothers of today's science-minded fangirls, GeekGirlCon organizers are putting on their eighth annual convention honoring "women and other underrepresented groups." Expect panels and workshops (though an exact schedule hasn't been released yet), an art show, a floor full of gaming, and vendors of costumes, comics, jewelry, and more. Expect activism and warmth, experimentation and acceptance.
Sirens also celebrates women-identified lovers and producers of SFFH, with a strong emphasis on fantasy. Over its ten years of existence it has done this at a variety of venues — for the last few years at a couple of luxury resorts in Colorado, and before that at one in south central Washington State. As the choice of accommodations indicates, Sirens is a bit spendy. The price of attendance ranges from $225 a year out, to the current cost of $275, to $300 at the door. That price includes two lunches; your transportation, your hotel room, and a few of the workshops are sold separately. Scholarships are available, though applications for those were due back in May. Part academic conference, part sercon, Sirens reportedly packs googobs of goodness into its three-day program. Which it should.