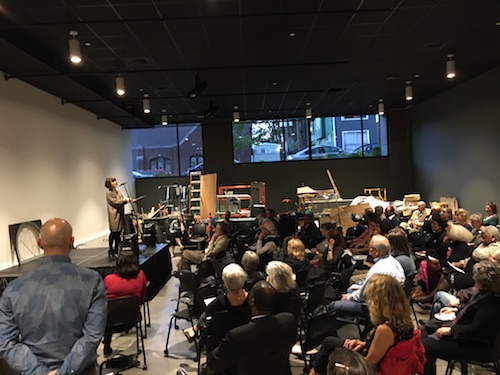 Hugo House Executive Director Tree Swenson welcomes donors to the still-in-progress Lapis Theater on Monday evening.
The best part of the new Hugo House space on Capitol Hill, according to Executive Director Tree Swenson, is the way that architecture firm NBBJ bedecked the space with "just little details everywhere."
For the last couple of years, Swenson has been tightly wound as she's shepherded the Hugo House from its old space into an interim location on First Hill and then back to its new incarnation. Now, she's almost made it: the House is just a few thousand dollars shy of owning the new home outright (albeit at far below market rate.) That means donors won't have to worry about being continually tapped and re-tapped in order to pay off late rent; the space — after a capital campaign raising 7.5 million dollars — will be entirely bought and paid for.
If you feared that Hugo House's new space would be boxy or bland, you can officially relax: walking around the House is anything but boring. All the classrooms are different sizes, each room has at least one little secret embedded into its construction, and the interior of the space allows for a ton of natural light to seep inside.
The bar is right there at the entrance, welcoming in writers and readers with
graffitied wood from the House's raucous last days in its old location
. Around the corner, you'll find some nice, private booths and a tiny pocket stage with a little stairway to nowhere for more people to sit.
Arguably the crown jewel of the new space is the Lapis Theater, an immense reading area that can seat roughly 150 people. The theater is so named, Swenson says, because Seattle arts megadonor
James Ray
"was very interested in all things Egypt, and it's named after his favorite stone." (The giant neon art deco "Lapis Theater" sign from Western neon wasn't quite finished in time for Hugo House's opening night party, but soon it will be installed over the entrance to the space.) The room is large and high-ceilinged, and it can be sectioned off into smaller areas with a series of soundproof curtains. On Monday at a special donor event, the Hugo House announced that the House was installing a plaque identifying its unique status. "We are the first
Literary Landmark
in Washington state," Swenson announced. The Literary Landmark program recognizes significant contributions to American literature: a Nebraska prairie representing the life and work of Willa Cather, for instance, or the Dr. Seuss National Memorial Sculpture Garden in Massachusetts. This particular plaque, which was sponsored by the Washington Center for the Book, recognizes Richard Hugo. The body reads:
Raised in Seattle's White Center by severe, taciturn grandparents, Richard Hugo (1923-1982) overcame his impoverished childhood to become a nationally beloved poet and teacher. Writing about overlooked people and places, he believed that "humanity will always survive civilization." Hugo House, founded in 1996 as a place for writers, honors his legacy.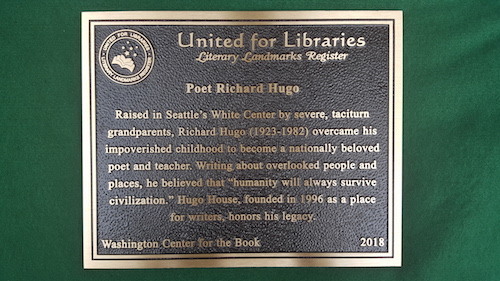 The new House is awash in Hugo: his quotes are on the walls and ceilings. The hallways and classrooms are named from his work. (Not every space takes a name from Hugo, though; the interior garden area, delightfully, is named Rivendell Garden and is dedicated with a quote from Tolkien.)
You'll have your first opportunity to visit the new Hugo House this Saturday night from 5 pm until late. Swenson hopes that you will agree that space "reflects a writerly individuality." She encourages writers and readers to "dig into these funny corners" of the space, to see what they'll find.
Certain curmudgeons will never be happy with anything but the old Hugo House space, and those people are destined to be unhappy. But for everyone else, there's a lot to love about the bustling new Hugo House. If you enter with an open mind, you'll likely find a corner inside that feels like it was made just for you.