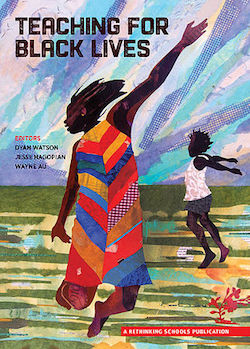 Last week, Macklemore announced that he was teaming up with NFL player Michael Bennett to buy copies of Teaching for Black Lives for "every middle and high school Social Studies and Language Arts teacher in the Seattle Public Schools." It's a breathtaking announcement, a sweeping endorsement that provides the kind of spotlight that only celebrity can offer.
Coedited by local educator Jesse Hagopian, Teaching is a book that calls for educational reform on just about every level. It seeks to replace the current systemic erasure of Black students with a curriculum that values and celebrates Blackness. By raising awareness of stereotypes and encouraging community conversation, Hagopian and the other contributors hope to upend the way racism is taught in our schools.
No single book can fix a system that has largely gone unexamined for decades, of course. But Teaching raises awareness of a situation that too many educators don't even realize exists. It's an important first step toward breaking a chain of violence that stretches back further than the origins of this country.
The reading tonight, which features readings from and discussions of the book, is sold out, but there will be a standby line on a first-come, first-served basis. Go see why this is a book that is about to change this city for the better.
Langston Hughes Performing Arts Institute, 104 17th Ave S. https://www.langstonseattle.org/, 7 pm, $5.