Every month, Daneet Steffens uncovers the latest goings on in mystery, suspense, and crime fiction. See previous columns on the Criminal Fiction archive page
Reading around: new titles on the crime fiction scene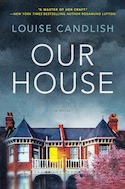 Talk about domestic suspense: from the moment that Fiona Lawton arrives home one day to find that a couple have moved in and all her belongings have been moved out (well, apart from a sad roll of toilet paper), the psychological thriller that is Our House by Louise Candlish (Berkley), hits critical mass and maintains it. Weaving back and forth between Fi's story via a true-crime podcast and the separate narrative of her husband, Bram, will keep your mind dancing – and your heart more than a little bit petrified. There are fiendish matters afoot here and some of the darker sides of human nature are cast into startlingly high relief, but Candlish grounds her protagonists with multiple levels of empathy — for themselves and for others – that keep the storylines smartly on track.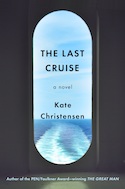 Less a crime novel than a novel with multiple crimes in it, Kate Christensen's The Last Cruise (Doubleday) follows a handful of characters — a New York journalist-turned-Maine-farmer and her journalist bestie, a quartet of aging Israeli musicians, an ambitious chef — as they join an iconic ship for her final cruise between California and Hawaii. Trouble below deck kicks off early on, but overriding the thrilleresque plot is a quietly stunning book about power: the abusive power of ego; the generationally-channelled power of anger; the mighty and physical power of the ocean; the reinforcing, embracing power of lifelong relationships; the survivalist power of deeply-embedded training; and the redeeming, soul-quenching power of music and words and love. Excellent.
The Man Who Came Uptown by George Pelecanos (Mulholland) is rich with characters you want to spend time with: Phil Ornazian, a private investigator, and Thaddeus Ward, a retired cop, share a lucrative side-gig of robbing from the bad guys – pimps, white supremacists – to give to the baddies' victims (and to themselves); Michael Hudson, newly un-incarcerated and treading the straight-and-narrow with cautious optimism; Anna Byrne, idealistic and approaching her own pivotal crossroads; and, neither last nor least, the thrumming city of Washington, D.C.. With these characters, Pelecanos has crafted a tale rife with certain inevitabilities as well as out-of-left-field surprises as worlds overlap, collide, and mesh. There's criminal violence here, but also a gentle, steady tone that carries the story forward and, inherent in every page, a wise and wonderful tribute to the transformative energy of books and reading.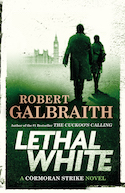 JK Rowling is clearly having as much fun writing her pseudonymous Robert Galbraith series of novels as she did while bringing the world of Harry Potter to life. Lethal White (Little Brown), the fourth book to feature the private-investigative work of Cormoran Strike and Robin Ellacott, gleefully tackles — against the hyperactive background of the 2012 Olympics — the hallowed world of London's Houses of Parliament and the still deeply-entrenched English class system. Armed with a wild tale of a long-ago murder as well as a case of potential blackmail on their hands, Cormoran and Robin find themselves hobnobbing with people whose nicknames tend towards 'Izzy,' 'Fizzy,' 'Torks,' 'Pringle,' 'Flopsy,' and 'Pong.' As Cormoran notes under his breath, "'Jesus Christ….It's like interviewing the Teletubbies.'" A cracking read, wisecracks and all.
The Quintessential Interview: Stuart Turton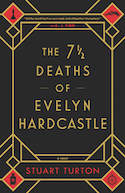 Stuart Turton's debut novel, The 7 1/2 Deaths of Evelyn Hardcastle (Sourcebooks Landmark), is mind-boggling in the best way. A mash-up of imaginative gems such as Agatha Christie, time travel, and television's sci-fi viewing pleasure Quantum Leap, the locked-estate mystery finds one Aiden Bishop persistently trying to solve a murder by embodying various host-bodies made up of fellow houseguests. In a shiver-inducing Groundhog Day aspect, the victim will die every day until Bishop figures out who's who and what's what. Even creepier is the creepy guy with the knife, creeping around in a seriously dastardly fashion. There's plenty of humor in Turton's clever tale, but some seriously unfunny business as well.
What or who are your top five writing inspirations?
It's funny, I've never thought of myself as being inspired, because I've wanted to do this for as long as I remember. My book is very much an Agatha Christie novel and I've wanted to write it since I was eight, so let's put Agatha up top. After that it gets a lot more prosaic. I write everyday because I'd go mad if I didn't; because I'd have to get an office job if I didn't; because the electricity company doesn't take 'following your dreams' as payment; and because I can't do anything else.
Top five places to write?
My study, which is just a desk, a computer, and a wall covered in plot-organising post-it notes. I hate clutter, so this is my favourite place ever. I seem to write well on long flights for some reason, so let's add that. And I always try to write in a place that has some connection to the story I'm telling. For 7 1/2 Deaths, it was a massive, decrepit manor house in the south of France which I crept around by night with a candle in my hand, scaring myself silly. It was awesome. I'll finish the list with a couple of places I like being when I look up from my screen, which includes any bar and my parent's house,
Top five favorite authors?
Depends on the day I'm having. In constant rotation are Arundhati Roy, Claire North, Franz Kafka, Raymond Chandler, and Iain Banks.
Top five tunes to write to?
Can I cheat and give bands instead? Wolf Alice, The National, St Vincent, Black Honey, Anna Calvi
Top five hometown spots?
My hometown, Widnes, is famous for making chemicals and having one of the highest rates of cancer in the country, so it's sorely lacking in nice places to visit. I rarely go back but, when I do, I tend to rotate between my parent's house, my favourite pub, The New Inn (I've been going there twenty years and I'm certain they've still got the same bar mats on the tables), the public library (which is now only open three days a week, a fact which damns our current government), the three charity bookshops in town, and the old market, where I like to eavesdrop on the local scandals.