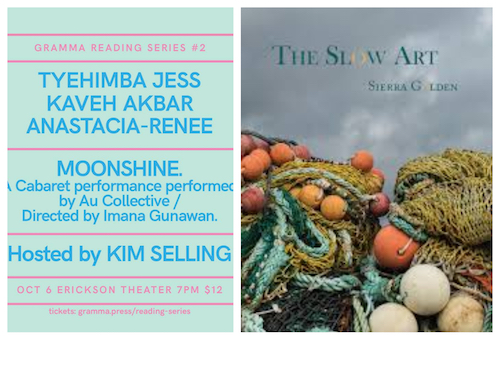 I'm not asking for your pity or anything, but sometimes picking one best literary event for every day of the week is difficult business. It requires me to make some really hard choices, and I have to leave a lot of great events out of the calendar.
I've created a sort of streamlined decision-making process that helps with some of the tough calls. For instance, if I have to choose between a great out-of-town author and a local author's book release party, for instance, I'll choose the local author. (This isn't the Touring Author Review of Books, after all.) And if I'm choosing between a recurring event and a unique, one-time-only deal, I'll often bite down hard and pick the single-serving event.
But holy crap, this Saturday is a hard choice.
On the one side, we've got a book release party for Seattle poet (and Seattle Review of Books's September Poet in Residence) Sierra Golden's very first poetry collection, The Slow Art. Golden's book is a poetic account of her time in the commercial fishing industry. (Read my interview with Golden here.) To celebrate her book's debut, Golden will be joined by local poets Maya Jewell Zeller and Sierra Nelson. And a country rock band called Lo-Liner will perform in between the readings.
But then we have the second installment of local publisher Gramma's reading series. The headliner is Pulitzer-winning poet Tyehimba Jess, which is a hell of a coup. Jess will be joined by celebrated Iranian-American poet Kaveh Akbar and Seattle's Civic Poet, Anastacia Renée. So that's a hell of a mix of local and out-of-town talent. And there's more: the evening will also include Moonshine, a diverse cabaret featuring movement and music and exuberant artistic expression.
So that's two events with local ties celebrating local talent with music and readings. How the hell do I pick one over the other? The answer is: I don't. I'm going to leave this choice up to you. See? How do you like it?
Release party for The Slow Art: Artspace Hiawatha Lofts, 843 Hiawatha Pl S, Seattle, 709-7611, http://www.artspacehiawatha.com, 5 pm, free.
Gramma Reading Series #2: Erickson Theater, 1524 Harvard Ave, https://gramma.press/, 7 pm, $12.