Monday, October 1: Uncompromising Honor Reading
The best sci-fi bookstore in town brings David Weber to Seattle. Weber's latest Honor Harrington adventure has been in the making for five years, and UBS customers get to read it one full day before everyone else. University Book Store, 4326 University Way N.E., 634-3400, http://www2.bookstore.washington.edu/, 7 pm, free.
Tuesday, October 2: Bookish Trivia
All this month, the library is hosting Booktoberfest events around town at bars and other nontraditional venues. Tonight is a bookish trivia night (maximum team size is eight people) and if you're thinking of going alone, don't fear: they'll help match you with other book-lovers. This is a great way to meet people with similar interests.
Naked City Brewery, 8564 Greenwood Ave N, 838-6299, http://www.nakedcitybrewing.com/, 7 pm, free.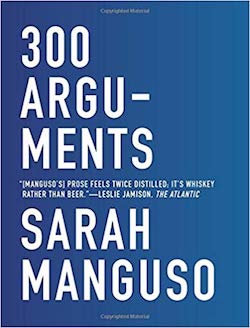 Wednesday, October 3: Word Works: Sarah Manguso
You probably know Manguso from last year's 300 Arguments, an autobiographical inquiry into what it means to be human in this time. It was one of the most exciting books to be published over the last few years. Tonight, Manguso will give a craft talk about authority at the new Hugo House.
Hugo House, 1634 11th Avenue, 322-7030, http://hugohouse.org, 7 pm, $15.
Thursday, October 4: Lit Crawl Fundraiser and Kickoff
Last week, I interviewed Lit Crawl's managing director, Jekeva Phillips, and Lit Crawl programmer Anastacia-Renée about why Lit Crawl is so fun and still somehow free. Phillips had this to say:
A big reason why it's free is because of our fundraiser on October 4th. We have fun things we're going to be auctioning off — items with different price ranges. We'll have things on the cheaper side that are better for our writer and artist friends, but we'll also have items like a voiceover class and different works of art.

We wanted to bring some fun stuff to the Lit Crawl fundraiser kickoff party this year, which is why we asked Briq House. She's a body-positive burlesque performer, and she'll be doing a literary/Halloween-themed burlesque dance. We love books, but we also love to party.
What more do you need to know? Get out to this event, get excited for next week's Lit Crawl, and help keep the celebration free.
Capitol Cider, 818 E. Pike St., 397-3564, 7 pm, $5, 21+.
Friday, October 5: Denise Levertov Award
For this 15th annual award celebrating the life and work of Denise Levertov, poet and activist Carolyn Forché will be celebrated for her work with poetry and religion and faith. There will be an award ceremony, a talk, and a reception with wine and food.
Hugo House, 1634 11th Avenue, 322-7030, http://hugohouse.org, 7:30 pm, free.
Saturday, October 6: The Slow Art Book Launch Party and Gramma Reading Series #2
See our Event of the Week column for more details.
Artspace Hiawatha Lofts, 843 Hiawatha Pl S, Seattle, 709-7611, http://www.artspacehiawatha.com, 5 pm, free.
Erickson Theater, 1524 Harvard Ave, https://gramma.press/, 7 pm, $12.
Sunday, October 7: COAST | NoCOAST Reading
COAST | NoCOAST, an experimental literary magazine formerly known as Northside Review, has staff in Ohio and Seattle. Today, the Seattle office is celebrating a brand new issue with a group reading at the best damn poetry bookstore in the United States. Open Books, 2414 N. 45th St, 633-0811, http://openpoetrybooks.com, 5 pm, free.