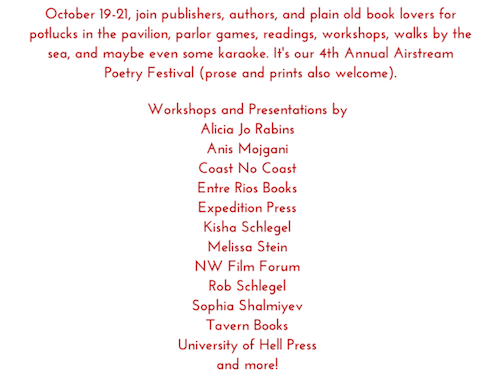 At a time when festivals are getting slicker and more polished and market-tested to the point of homogeneity, the Airstream Poetry Festival is a delightfully catch-as-catch-can affair. Put together by Mother Foucault Books in Portland, the Airstream festival takes over the Sou'wester Lodge and Trailer Park in Seaview, Washington for a weekend of poetry readings, workshops, publishers, ocean walks, and karaoke.
The next Airstream Poetry Festival takes place the weekend of October 19th. Tickets are just $15, and they include a potluck dinner and omelette breakfast at the Airstream's outdoor kitchen. I talked on the phone with Heather Brown, the events organizer at Mother Foucault, about the four-year old festival. Brown says Airstream started as "a retreat for personnel and friends of the shop. It's been gradually becoming more official" in the intervening years, she says.
While originally the weekend just featured a single reading with poets like Matthew Dickman and Carl Adamshick and Ed Skoog, Airstream now blends readings with workshops, games, music, and film screenings (Northwest Film Forum will be in attendance this year with a collection of films curated by Seattle writer Chelsea Werner-Jatzke.)
Aside from the rural locale and laid-back vibe, the thing that makes Airstream especially interesting is the geography of it. The festival feels like a Portland-Seattle summit, since it's located roughly halfway between the two cities. "It's been really great to get interest on both sides toward meeting in the middle," Brown says. But Airstream casts an even wider net than that: Brown says Bay Area poets also take part in the festival, and that publishers Expedition Press and Copper Canyon are both heading down from Port Townsend.
While she's excited for all the events, Brown thinks Seattle Review of Books readers should especially take note of Alicia Jo Rabins, who'll be reading from her new book Fruit Geode. "She's also bringing music," Brown says, adding Rabins "composed a soundtrack for the book that she'll be pioneering at the festival." She's also interested in the typewriter-themed writing prompt that Expedition Press is overseeing.
Another fun thing about Airstream is that it intermingles workshops and readings in an interdisciplinary vibe. Smartly, it doesn't put up artificial walls between readers and writers of poetry and literature. "It's just a fun place to come," Brown says. "It's a great way to meet new people and also be encouraged in your craft, if you're a writer and to meet some writers up close if you're a reader and a fan."
"And also it's not totally writing-centric," Brown says. "It's very, multidisciplinary. We've got a lot of input from various creative streams." She adds, "and it's also just a great getaway."