Every week we ask an interesting figure what they're digging into. Have ideas who we should reach out to? Let it fly: info@seattlereviewofbooks.com. Want to read more? Check out the archives.
EJ Koh is the author of A Lesser Love, winner of the Pleiades Editors Prize, and her memoir The Magical Language of Others forthcoming from Tin House. Her poems and translations have appeared in Boston Review, Columbia Review, Los Angeles Review of Books, PEN America, World Literature Today, and of course, here on the Seattle Review of Books. She has accepted fellowships from The American Literary Translators Association, Kundiman, and The MacDowell Colony.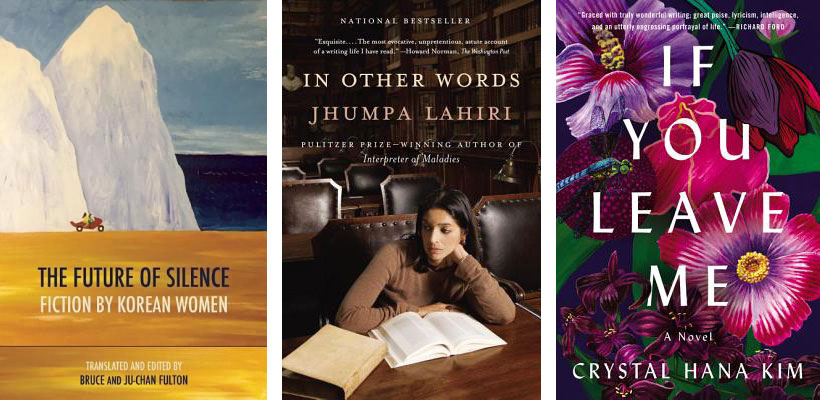 What are you reading now?
A collection of fiction by Korean women The Future of Silence translated by Bruce and Ju-Chan Fulton. It's one of very few collections of Korean writing in the English-speaking world. Stories like O Chong-hui's "Wayfarer" and Park Wan-so's "Identical Apartments" make noises in my heart, noises I've never heard. One of my favorites, So Young-un's "Dear Distant Love," with its repressed, reclaimed visuality and story is darkly moving.
What did you read last?
After Jhumpa Lahiri published her self-reflections in the Italian language, I picked up the English translation In Other Words. The possibility of a new language giving birth to a new voice is both familiar and startling. I ask myself these same questions: Could I write a story in the Korean language? Would I dare to write a poem in the Japanese language? How does this change my writing, the place from which I speak?
What are you reading next?
I will begin Crystal Hana Kim's If You Leave Me. It's a debut that tackles the birth of modern Korea, beginning at the refugee camps and through the aftermath of war. I'm looking forward to experiencing the characters, the intimate story, but especially the lessons.