Every week we ask an interesting figure what they're digging into. Have ideas who we should reach out to? Let it fly: info@seattlereviewofbooks.com. Want to read more? Check out the archives.
Ruth Dickey is the Executive Director of Seattle Arts & Lectures, an avid reader, an ardent fan of independent bookstores, and an often-procrastinating writer. Fact: this column was largely inspired by receiving emails from Ruth, which include a signature that lists what she's reading, and it is always something compelling.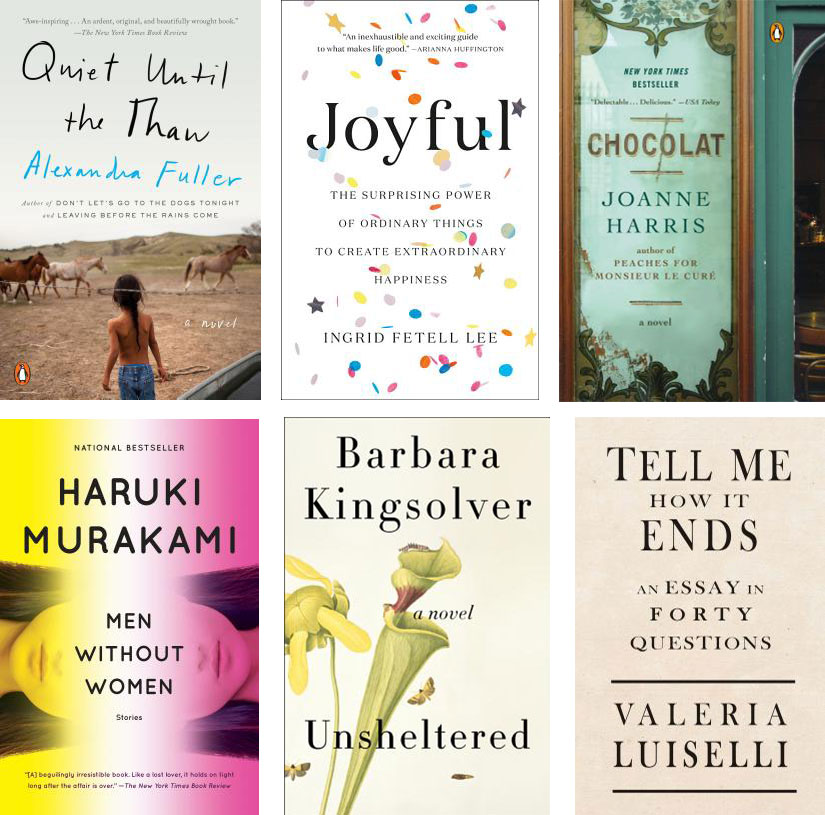 What are you reading now?
So allow me to begin with a confession: I usually have at least two books I'm reading at once, and sometimes an embarrassingly large stack. I think it's because the amount of things I want to read vastly outpaces what I can actually read. My current two I got in a bookstore at JFK (because a cross country flight without a book is tragic!): Alexandra Fuller's Quiet Until the Thaw, and Ingrid Fetell Less's Joyful: The Surprising Power of Ordinary Things to Create Extraordinary Happiness. I lost my mom five years ago this fall, and she loved Alexandra Fuller's work, so finding this pair of books felt like a special gift at a time when I was particularly thinking of my mom and loss and the funny ways that grief moves through us.
What did you read last?
This summer I had the great gift of walking a chunk of the Northern Route of the Camino de Santiago in Spain, and the last two books I read were both ones I found at the end of my journey: Joanne Harris' Chocolat (in a pizza place in Arzua) and Haruki Murakami's Men Without Women (in a bookstore in Madrid). I love how often books show up in our lives at times we need them, and Harris' story of the triumph of love and compassion over rule and dogma combined with Murakami's haunting stories of people finding their way and the image of a moon made of ice somehow felt like the perfect combination to carry me home.
What are you reading next?
Barbara Kingsolver's new novel, Unsheltered. I absolutely adore Barbara Kingsolver's work, and am looking forward to her new novel and her visit to SAL on October 25th (it's sold out, but we'll be selling standby at the door!). And next in line is another upcoming SAL author I really admire, Valeria Luiselli. I'm looking forward to reading Tell Me How It Ends: An Essay in 40 Questions, and to having her at SAL April 17, 2019. Both of these authors tackle issues of justice and compassion and our complicated world in such thoughtful and insightful ways — a perfect balm for these times.