Every week we ask an interesting figure what they're digging into. Have ideas who we should reach out to? Let it fly: info@seattlereviewofbooks.com. Want to read more? Check out the archives.
Seattle Walk Report is a charming and delightful Instagram account run by an anonymous Seattlite. You can read Paul Constant's review with her, but here we dig into the most important question of all: when she's not walking or drawing, what is she reading? Special thanks to SRoB reader Josie who recommended we reach out to Seattle Walk Report. We love recommendations! Who do you want to hear from, here? Let us know.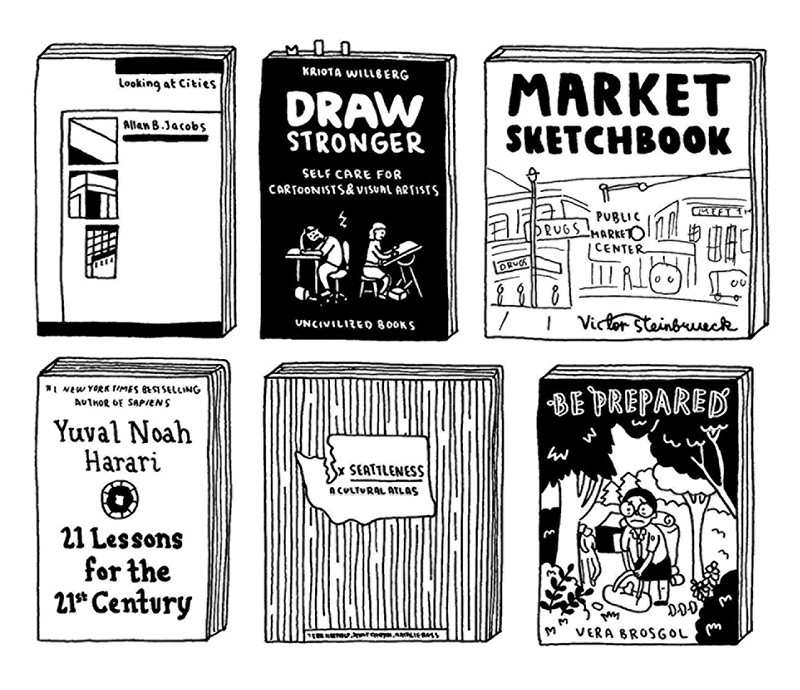 What are you reading now?
Due to a serendipitous library encounter, I'm currently reading Looking at Cities by Allan B Jacobs. It's about the crucial role of street-level observation in truly understanding the story of a city. Jacobs, an urban designer, delves into what you can learn about an area if you know what to look for and take the time to explore, and how that exploration can lead to building better cities. It was published in 1985 so some of the case studies in the book are a bit dated, but the essence and message of the book rings as true as ever. I'm really enjoying it so far.
After getting a totally preventable drawing injury, my friend gave me a lovely signed copy of a book called Draw Stronger: Self-Care for Cartoonists and Other Visual Artists by Kriota Willberg, which I've been reading and re-reading. The illustrations are laugh-out-loud funny at times and the writing is completely accessible. I highly recommend it.
What did you read last?
I'm 50 years late to the party, but I just finished pouring over Victor Steinbrueck's 1968 book Market Sketchbook about the Pike Place Market. It's phenomenal.
What are you reading next?
It's up for the Library hold system to decide, but I have a few that I'm especially looking forward to: 21 Lessons for the 21st Century by Yuval Harari, Seattleness: A Cultural Atlas by Tera Hatfield, Jenny Kempson, and Natalie Ross, and the graphic novel Be Prepared by Vera Brosgal. Middle grade graphic novels are a joy no one can take away from me!