Every month, Daneet Steffens uncovers the latest goings on in mystery, suspense, and crime fiction. See previous columns on the Criminal Fiction archive page
Reading around: new titles on the crime fiction scene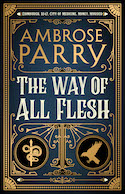 Murder most foul slimes its way through The Way of All Flesh by Ambrose Parry (Canongate), the author's name a pseudonym for the crafty collaboration between husband-and-wife team Marisa Haetzman, an anaesthetist with an MA in the History of Medicine, and Christopher Brookmyre, author of multiple darkly humorous thrillers. The 19th-century-Edinburgh setting allows for plenty of grisly medicinal gore but also showcases a city vibrantly rich in the burgeoning fields of anaesthetics and photography, as well as ongoing religious transformations. Shimmering with lovingly-rendered historical details — watch for the conversation between a lady and her maid regarding a new novel, Jane Eyre by one Currer Bell, and the friendly neighbourhood druggist busy experimenting with fizzy lemon sherbert concoctions in his downtime – the novel more than holds its own as a compelling and twisted mystery as well.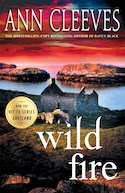 A family of "soothmoothers" newly-relocated from London to Shetland who are getting the local cold shoulder, and a chaotic neighboring family with a young nanny are just two of the domestic scenarios looming large in Wild Fire by Ann Cleeves (Minotaur). Detective Inspector Jimmy Perez, his loyal sidekick Sandy, and Perez' colleague-turned-maybe-girlfriend Willow — who also happens to be his Senior Investigating Officer — tackle the suspicious death of a woman, beset on every side — as befitting a tiny, remote, tightknit community – with gossip, lore, and whispers of long-standing feuds and secrets. Partly inspired by Cleeves' 70s-era residency on Shetland's Fair Isle, the series' final book includes a peak-a-boo cameo of the author in a canny and stirring farewell.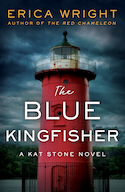 Erica Wright's Kat Stone, just three years out from under the dangerous and suffocating work she did as an undercover cop, is making fresh inroads in New York City as a private investigator. In The Blue Kingfisher (Polis), a new case falls into her domain when she finds her apartment building's superintendent very much DOA at the Jeffrey's Hook Lighthouse in Fort Washington Park. A motley cast of colorful characters — including a hallucination-inducing jellyfish and a surprisingly non-carnivorous shark – and Stone's super-snarky observations, gift Wright's third novel with substance, entertainment, and chills-a-plenty, as Stone navigates murder on her doorstep as well as the threatening machinations of a wily drug lord.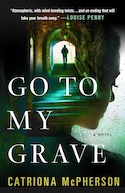 Catriona McPherson's new standalone thriller Go to My Grave (Minotaur) features a hulking coastal estate house, newly-decorated to the gills to attract high-end clients for parties, weddings, and indulgent weekends. As the book opens, manager Donna Weaver is celebrating the fact that she's scored bigtime with a brash group of friends and siblings celebrating a special anniversary. As creepy and unexplained impositions begin to infect the weekend festivities, McPherson, also the author of the cosy and cheeky Dandy Gilver series, deftly infuses dabs of humor within the darker horrors: she's particularly adept when it comes to the fraught emotional baggage and dagger-sharp verbal cuts that long-time acquaintances can wage against each other – particularly when they are all apparently harboring an old, scary, and deeply-held secret.
The Quintessential Interview: Valentina Giambanco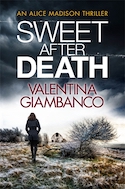 Murder most unlikely comes to the tiny town of Ludlow, Washington, in Sweet After Death by Valentina Giambanco (Quercus). In light of the underfunded law enforcement infrastructure in the area, Seattle homicide detective Alice Madison is dispatched to investigate with her colleagues DS Kevin Brown and CSI Amy Sorensen. There's all the palpable tensions a small community generates – particularly between the townspeople and the off-grid locals – as well as genuinely explosive secrets and a landscape that just won't quit. Plus, Madison's own hefty emotional baggage trucks along for the ride. With a parallel career in film-editing, Giambanco has an ear for dialogue, an eye for heady visuals, and an unmissable ability for setting a page-turning pace.
What or who are your top five writing inspirations?
Human relationships – always a never-ending source of surprising material.
Good people doing bad things and bad people doing good things.
Outsiders and all those who don't quite fit in.
The small details of everyday life – you're sitting in the bus and you see someone doing something and go, "Oh yeah, I'm stealing that tiny gesture."
Wilderness and the way that, in the wild, human beings reveal who they truly are.
Top five places to write?
The window seat on a train.
The aisle seat on a plane.
A particular bench in my local park.
The New York City library on Fifth Avenue, in the lovely reading room with the brass lamps.
My dining table, looking out of the window at the trees.
Top five favorite authors?
Only five? Okay, this is today's list…Raymond Chandler, Louise Penny, Thomas Harris, Rory Clements, Karin Slaughter.

Top five tunes to write to?
I work better with soundtracks – no words, a lot of atmosphere. These are the five I always return to: American Beauty and The Horse Whisperer by Thomas Newman, Marathon Man and Klute by Michael Small, and The Usual Suspects by John Ottman. I could add another five, and another five after that as music is more often than not the way into a scene, a situation, a mood. I write with music, but reread without music: there's always the danger of a dodgy piece of writing flying in under the radar because the music made it sound better than it was.

Top five hometown spots?
London – actual hometown: the gardens of St. Paul's Church in Covent Garden; the stacks of the London Library; the main hall of the Natural History Museum; a massive, twisted old oak in my local park; Oddono's ice-cream parlour in Northcote Road (Always ask for the hazelnut – they won prizes for it).
Seattle – U.S. hometown: the strip of pebble beach before Three Tree Point and opposite Vashon Island; Kobe Terrace park, in the third week of March when the cherry trees are in bloom; Le Pichet, French restaurant near Pike Place Market; the spot at the bow of the Bainbridge Island ferry, watching Winslow getting bigger on the horizon; a table upstairs in the Athenian Inn in Pike Place Market from where I can watch the comings and goings in the harbour.