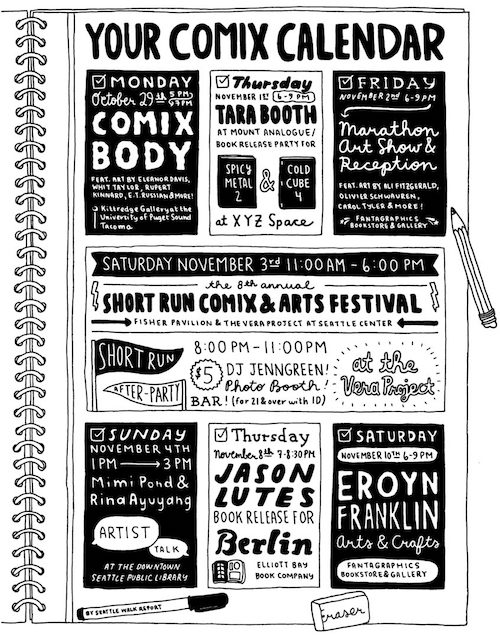 The Short Run Comix and Arts Festival has become the kind of joyous and surprising community event that Seattle's literary scene has always wanted. It's a book festival, but it's more than a book festival. It's a comic convention, but it's more than a comics convention. It's an art show, but it's more than an art show. It's a place for everyone to get together and check out what they've been working on. This week is full of Short Run events. Here's a little schedule, but you can learn more on their website.
Tonight at the Kittredge Gallery at the University of Puget Sound in Tacoma, Short Run artists including Eleanor Davis, E.T. Russian, Joe Garber, Robyn Jordan, Kelly Froh, Krystal DiFronzo, and Ann Xu will be onhand to celebrate the closing of a show about comics and the corporeal titled COMIX BODY: sensitive skin, vulnerable meat.
On Thursday, the XYZ Gallery hosts a publication launch party from cartoonist Tara Booth.
Friday at the Fantagraphics Bookstore & Gallery, join the reception for a new art show featuring Ali Fitzgerald, Mimi Pond, Carol Tyler, Anna Haifisch, Olivier Schwauren, Antoine Maillard, Melek Zertal, Rina Ayuyang, Eroyn Franklin, and November Garcia.
Saturday night after the big show (about which more later,) there's a Short Run Afterparty featuring DJ Jenngreen, kinetic sculptures, and more. This is at the Vera Project and it's 5 bucks.
And on Sunday at the Seattle Public Library downtown, Mimi Pond and Rina Ayuyang discuss their latest comics publications. Ayuyang is sharing the world premiere of her Drawn & Quarterly title, Blame it on the Boogie, with Short Run.
But of course the main event at Short Run will always be the book expo proper, which happens at the Fisher Pavilion from 11 to 6 on Saturday and is free.
Every year, the expo gets a little bigger and the programming gets a little more robust. This year's features storytime for kids featuring Jessixa Bagley, a literary reading hosted by Colleen Louise Barry, a comics workshop for teens from David Lasky, a postcard screen printing workshop, an animation tent, and a virtual reality demonstration.
But, listen: here's the most important part of Short Run. There's a book at this book expo that you will fall in love with. It will feel like it was made just for you. I don't know what it is. You won't know what it is until you see it. But here's how you find it: go to the show. Walk up and down the aisles. Do two circuits. Look at all the booths, talk to the artists, and take in the sights. Something will call to you. Pick it up. Smell it. Look at it. Buy it. Take it home. It will be the book for you. You can find it. I know you can.
Seattle Center, http://shortrun.org/, 11am to 6 pm, free.