Monday, October 29: People Like Us Reading
Sayu Bhojwani is a political scientist whose book People Like Us is subtitled The New Wave of Candidates Knocking at Democracy's Door. Tonight, she'll be interviewed by UW poli-sci professor Sophia Jordán Wallace about candidates of color and women candidates who are breaking the stranglehold that white men have on American politics. Rainier Arts Center, 3515 S. Alaska St, 652-4255. http://townhallseattle.org, 6 pm, $5.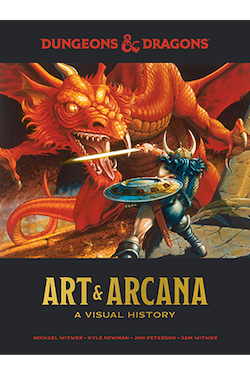 Tuesday, October 30: Dungeons and Dragons Art and Arcana Reading
This is a reading for a big and beautiful art book that serves as a visual history of Dungeons and Dragons. There's artwork and photographs and rarities and all sorts of D&D history crammed between the covers, which the publisher refers to as "the most comprehensive collection of D&D imagery ever assembled."
University Lutheran Church, 1604 NE 50th St, https://townhallseattle.org, 7:30 pm, $5.
Wednesday, October 31: The Meaning of Blood Reading
Chuck Caruso's murder-and-sex-packed collection of short stories veers from crime to westerns to horror and back again. This is a great way to spend a Halloween if you don't want to dodge kids in costumes or chronically drunk college students on the streets of the city.
University Book Store, 4326 University Way N.E., 634-3400, http://www2.bookstore.washington.edu/, 6 pm, free.
Thursday, November 1: Instruments of the True Measure Reading
Phenomenal Seattle poet Laura Da' debuts her latest collection of poetry, with the help of local poets Sasha LaPointe and Casandra López.
Instruments of the True Measure
is about identity and what it means to be from a place and maps. We'll be hearing a lot more from and about Da' here on the
Seattle Review of Books
as the month goes on.
Elliott Bay Book Company, 1521 10th Ave, 624-6600, http://elliottbaybook.com, 7 pm, free.
Friday, November 2: The Lachrymose Report
Sierra Nelson's debut collection of poems, the debut title from Poetry Northwest's new publishing arm, has been described by many (including me) as "long-awaited" for so long that it's hard to believe it's finally here. Nelson, a beloved Seattle poet, has somehow never published a full-length book before, so this is a very special night. Nii Modo Art Gallery, 4453 Stone Way North, 633-0811, http://openpoetrybooks.com, 7 pm, free.
Saturday, November 3: Short Run Comix and Arts Festival
See our Event of the Week column for more details.
Seattle Center, http://shortrun.org/, 11am to 6 pm, free.
Sunday, November 4: Vicinity/Memoryall Reading
The former owners of Open Books, Christine Deavel and John Marshall, read from a new play they've been working on. The play is about two people trying to find a memorial. This reading will also be accompanied by a short film.
Hugo House, 1634 11th Avenue, 322-7030, http://hugohouse.org, 7 pm, free.